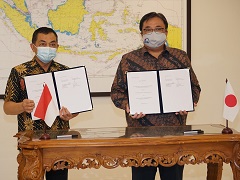 Siging ceremony
On Feb. 2, the Japan International Cooperation Agency (JICA) signed a grant agreement with the Government of the Republic of Indonesia inJakarta, to provide grant aid of up to 3 billion yen for the Programme for the Development of Fisheries Sector in Outer Islands (Phase 2).

The programme will provide fiscal support for the development of fishing port facilities on the outer islands by the Ministry of Marine Affairs and Fisheries of Indonesia and to establish and improve fishing ports and fish markets on the six outer islands near the national border. Small-scale fishermen will be able to use the fishing ports, which will be equipped with cold storage facilities and ice production facilities. This initiative is expected to contribute to the stimulation of the local fishing industry and to improvements to the living standards of coastal communities through higher added value in fishery products and better fishery product distribution outside of the islands. This programme will contribute to the achievement of SDGs Goals 8, 10, and 14. It will also contribute to the pursuit of economic prosperity in line with "Free and Open Indo-Pacific" through enhancing connectivity across regions.


Details for the project are provided below.
[Basic project information]

| | |
| --- | --- |
| Country | The Republic of Indonesia |
| Project title | The Programme for the Development of Fisheries Sector in Outer Islands (Phase 2) |
| Planned implementation period | 42 months |
| Executing agency | Ministry of Marine Affairs and Fisheries |
| Target region, facilities | Fishing Port Facilities and Fish Markets in Sabang, Natuna, Morotai, Saumlaki, Moa, Biak |
| Specific project details (provisional) | Fiscal assistance for the establishment and rehabilitation of fishing port facilities (including jetty, breakwater, cold storage facilities, ice-making facilities and basic infrastructure) and markets, other |