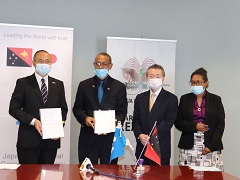 signing ceremony
On March 4, the Japan International Cooperation Agency (JICA) signed a loan agreement with the Government of the Independent State of Papua New Guinea in Port Moresby to provide a Japanese ODA loan of up to 30 billion yen for the COVID-19 Crisis Response Emergency Support Loan.

The objective of the program loan is to enhance public financial management, improve subnational health system management, and support the government's COVID-19 emergency response through providing budget support by co-financing with the Asian Development Bank (ADB). This will contribute to promoting socio-economic stability and national development, which has been affected by the worldwide spread of COVID-19. This program loan will contribute to the achievement of SDGs Goals 3, 5, and 8.


Details for the program loan are provided below.

1. Terms and Amount of Loan
Project title
Amount
(million yen)
Annual interest rate (%)
Repayment
period
(years)
Grace
period
(years)
Procurement
Project
Consulting services
the COVID-19 Crisis Response Emergency Support Loan
30,000
0.01
-
15
4
General untied
2. Executing Agency
Department of Treasury
Address: Treasury Building, Lamana Road, P.O.Box542, Waigani 131, N.C.D., Papua New Guinea

3. Planned Implementation Schedule
(1) Completion of program loan: March 2021 – when the loan is executed
(2) Issuing of letters of invitation for consulting services (including detailed design work):
No hiring of consultants is planned for this program loan.
(3) Tender announcement of initial procurement package for international competitive bidding on project construction:
No work in conjunction with bidding is planned for this program loan.