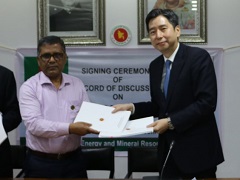 signing ceremony
On March 14, the Japan International Cooperation Agency (JICA) signed a Record of Discussions with the Government of the People's Republic of Bangladesh in Dhaka for the Integrated Energy and Power Master Plan Project, a technical cooperation for development planning.

The project aims to promote a low or zero carbon transformation of the total energy supply and demand system, by formulating a masterplan. This will be a development policy and plan for energy and power sector in Bangladesh. It will have an inclusive and long-term view, working for sustainable development, and will contribute to SDGs Goals 7 and 13.

In 2016, JICA assisted with formulating the Bangladesh Power System Master Plan 2016 (PSMP2016). This time the master plan project will not be limited to electricity alone, but it will also be aimed at promoting low or zero carbon transformation for all forms of energy with maintaining a stable supply of energy and ensuring economic viability. It will also strengthen the capacity required for policy and planning development and energy data management so that in the future the Bangladesh government can carry out energy and electrical development independently.

Details for the project are provided below.
[Basic project information]

| | |
| --- | --- |
| Country | People's Republic of Bangladesh |
| Project title | The Integrated Energy and Power Master Plan Project |
| Planned implementation period | 30 months |
| Executing agency | Mineral Resources Division and Power Division, Ministry of Power, Energy and Mineral Resources |
| Target region | Entire Bangladesh |
| Specific project details (provisional) | Assistance will be given in formulating an integrated energy and electricity masterplan to build a low or zero carbon energy supply and demand system that will be needed to attain sustainable development for Bangladesh. This will be done by analyzing the balance between the primary energy supply and final consumption, reviewing a power system plan by incorporating a review of the power source mix and various energy conservation methods, reviewing the legal framework for importing LNG, and strengthening the energy data management system. |