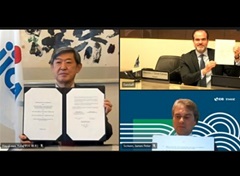 Signing Ceremony(Upper Right:President Mauricio Claver-Carone , Lower Right:CEO James P. Scriven, Left:President KITAOKA Shinichi)
On March 24, Japan International Cooperation Agency (JICA) and the Inter-American Development Bank (IDB) Group signed a Memorandum of Collaboration (MOC) for Cooperation for Economic Recovery and Social Inclusion (CORE) in the Latin America and the Caribbean (LAC) region. The signing ceremony was held online with IDB President Mauricio Claver-Carone representing IDB and IDB Lab*, IDB Invest** CEO James P. Scriven, and JICA President KITAOKA Shinichi.

In the LAC region, economic growth fell to minus 7.4% in 2020 due to the COVID-19 pandemic. This regional economic contraction was the largest in the world, and there are concerns about an increase in poverty rates and the further widening of income inequality. Under these circumstances, it is urgent for the region to have a strong economic recovery from the COVID-19 pandemic and to build inclusive societies that leave no one behind. Based on the MOC, IDB and JICA stated that they would work on promoting investment in quality infrastructure, strengthening resilience to natural disasters (disaster risk management), and global health including improvement of access to quality health care services (universal health coverage: UHC).

In 2011, IDB and JICA signed the Co-financing for Renewable Energy and Energy Efficiency framework to promote co-financing in the fields of renewable energy and energy efficiency, water and sanitation, and transportation. This new MOC extends the period of cooperation by five years and expands the scope to the fields of disaster risk management and global health, in addition to further promoting quality infrastructure investment. Moreover, JICA will support economic growth by strengthening the private sector in cooperation with IDB Invest and IDB Lab, which are the private sector arms of the IDB Group.

JICA will continue to deepen its partnership with IDB and promote development cooperation in the LAC region.

* IDB Lab (brand name of Multilateral Investment Fund) is the innovation laboratory of the IDB Group, the leading source of development finance and know-how for improving lives in Latin America and the Caribbean (LAC). The purpose of IDB Lab is to drive innovation for inclusion in the region, by mobilizing financing, knowledge, and connections to test early-stage solutions with the potential to transform the lives of vulnerable populations affected by economic, social, and/or environmental factors. Since 1993, IDB Lab has approved more than US$ 2 billion in projects deployed across 26 LAC countries.

** IDB Invest (brand name of Inter-American Investment Corporation), a member of the IDB Group, is a multilateral development bank committed to promoting the economic development of its member countries in Latin America and the Caribbean through the private sector. IDB Invest finances sustainable companies and projects to achieve financial results and maximize economic, social and environmental development in the region. With a portfolio of $13.1 billion in asset management and 385 clients in 25 countries, IDB Invest provides innovative financial solutions and advisory services that meet the needs of its clients in a variety of industries.