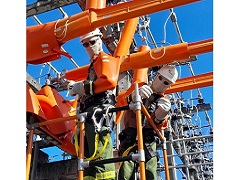 Coelba's employees doing maintenance of distribution facility
On March 30th, Japan International Cooperation Agency (JICA) signed a loan agreement with Companhia de Eletricidade do Estado da Bahia (Coelba), which is operating a power distribution business in Bahia state in the northeast of Brazil under a concession license from the Brazilian government. JICA provides up to 9.9 billion yen for the construction of power distribution facilities, including new grid-connection of households in the state. This initiative is co-financed by MUFG Bank, Ltd. (MUFG) and Brazil's National Bank for Economic and Social Development (BNDES).

Brazil has a large income disparity, with a poverty rate of 12.1% of the state population in the relatively developed south and 43.6% in the poorest northeastern region (about 25 million people). Of the 1.25 million unelectrified people not connected to the power grid, most are located in the northeast. In the state of Bahia, the largest northeastern state, where the project is to be implemented, there are 215 thousand people with no access to electricity. The Brazil's energy matrix consists of 73% renewable energy, mainly hydropower, but in unelectrified areas, people have no choice but to use coal and firewood for cooking and diesel generators and kerosene lamps for lighting. This situation puts pressure on the household budgets of the poor, emits greenhouse gases, and affects vegetation, as well as raising concerns about safety and health, such as household fires and air pollution.

Coelba has been providing power distribution services in Bahia for more than two decades and has more than six million customers. This project will provide financial support to Coelba for the construction of power distribution facilities in 2021 and 2022(*), which will help to replace diesel and other fossil fuels with renewable energy in the areas not connected to the power grid. It will also help to conserve energy by lowering power losses, thereby contributing to the fight against climate change. The project will contribute to SDGs Goals 7 and 13.

This loan is JICA's first co-financing with MUFG which serves as a lead arranger of this transaction(**). BNDES is a policy development bank of the Brazilian government and a member of the International Development Finance Club (IDFC), to which JICA is also affiliated. Solving social issues in Brazil through collaboration with diverse financial institutions will contribute to the achievement of SDGs Goal 17. JICA will continue to cooperate with various players in both the private and public sectors with the aim of achieving SDGs.

(*) BNDES is taking part on 2021 investments.
(**) Lead arranger: An organization responsible for coordinating with the borrower as the leader of the lenders.