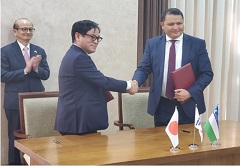 signing ceremony
On April 16, the Japan International Cooperation Agency (JICA) signed a loan agreement with the Government of Republic of Uzbekistan in Tashkent to provide a Japanese ODA loan of up to 195 million US dollars for Development Policy Support Program.

The objective of the program is to support stabilization of the power sector by extending budget support to the Government of Uzbekistan. The program promotes 1) improving the governance and operational systems of energy conservation in the power sector (ex. strengthening the system for project management within related ministries and building a system for collecting statistical data on energy conservation), and 2) enhancing the financial management of the power generation sector (ex. improving financial accounting management at power generation facilities), while contributing to the achievement of SDGs Goals 7, 8 and 9.

Details for the program are provided below.

1. Terms and Amount of Loan
Project title
Amount
(million U.S. Dollar)
Annual interest rate (%)
Repayment
period
(years)
Grace
period
(years)
Procurement
Project
Consulting services
Development Policy Support Program
195
6-month US dollar LIBOR+110 bp
ー
25
7
General untied
2. Executing Agency
Ministry of Finance
Address: Istiklol St. 29, Tashkent 100017, Republic of Uzbekistan
TEL:+998 71-203-00-50

3. Planned Implementation Schedule
(1)Completion of project: April 2021 – when the loan is executed.
(2)Issuing of letters of invitation for consulting services (including detailed design work): No hiring of consultants is planned for this program loan.
(3)Tender announcement of initial procurement package for international competitive bidding on project construction: No work in conjunction with bidding is planned for this program loan.