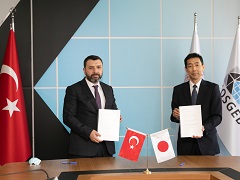 signing ceremony
On April 15, the Japan International Cooperation Agency (JICA) signed a loan agreement with the Government of the Republic of Turkey in Ankara to provide a Japanese ODA loan of up to $300 million for the Rapid Support for Micro and Small Enterprises Project.

The aim of the project is to assist business operations and employment of micro and small enterprises in Turkey by providing emergency liquidity support to the enterprises that have been affected by the COVID-19 pandemic. It will utilize the established system in the Turkish government. Supporting micro and small enterprises, which account for 99 percent of all firms in Turkey, will contribute to the sustainable growth of industries and the economy. This project will contribute to the achievement of SDGs Goals 8 and 9.

Details for the project are provided below.

1. Terms and Amount of Loan
Project title
Amount
(million U.S. Dollar)
Annual interest rate (%)
Repayment
period
(years)
Grace
period
(years)
Procurement
Project
Consulting services
Rapid Support for Micro and Small Enterprises Project
300
6-month US dollar LIBOR+100bp
-
15
5
General untied
2. Executing Agency
Small and Medium Enterprises Development Organization of Turkey (KOSGEB)
Address: T.C. Küçük ve Orta Ölçekli İşletmeleri Geliştirme ve Destekleme İdaresi Başkanlığı
Hacı Bayram Mah. İstanbul Cad. No. 32, 06050 Ulus, Altındağ, Ankara, Turkey

3. Planned Implementation Schedule
(1)Completion of the project: December 2021– with completion of the loan disbursements.
(2)Issuing of letters of invitation for consulting services: No hiring of consultants is planned for this program.
(3)Tender announcement of initial procurement package for international competitive bidding on project construction: Necessary procurement will be conducted with national competitive bidding and international competitive bidding is not planned for this project.