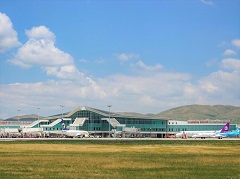 Panoramic view of the new airport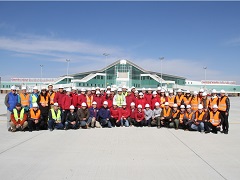 Japanese and Mongolian personnel assisting the building and management of the new airport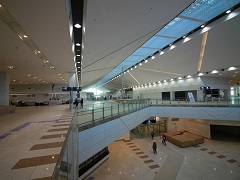 View inside the new airport passenger terminal
On July 4, the Chinggis Khan International Airport was opened in Tov province in the suburbs of Ulaanbaatar city, the capital of Mongolia. There was an opening ceremony on the day, and the first flight from Ulaanbaatar to Narita took off. This airport will be the new air gateway to Mongolia.

The old airport, which was in use since 1957, depended on repeated extensions to the runway and renovations. In order to respond to increasing demands, preparations for the new airport were planned, and now the transfer of functions from the old to the new airport has been completed.

JICA has cooperated in construction of the airport through the provision of ODA loans, and additionally, in order to maximize safe and efficient airport operation, it has offered technical cooperation to manage and maintain the facilities. Japanese companies were in charge of construction, and capacity building was provided for various areas necessary for airport operation such as organizational planning, operation and maintenance of facility and fuel supply systems, price setting, management of tenants in the terminal facilities, and customer services, in cooperation with Japanese agencies and companies. All types of Japanese resources have been used to assist in planning the new airport.

Operation of the new airport has been entrusted to a private enterprise for the first time in Mongolian airport business. The New Ulaanbaatar International Airport LCC which received capital from a group of Japanese companies (Mitsubishi Corporation, Narita International Airport Corporation, Japan Airport Terminal Co., Ltd, JALUX Inc.) and a Mongolian state-owned enterprise, has concluded a concession contract with the Mongolian government. It is expected that the new airport will be operated in a safe and reliable manner based on the technical cooperation it has received.

It is anticipated that the new airport will act as a gateway for the people and goods of Mongolia and that it will fulfill an important role in developing its economy. JICA will continue cooperation by providing Mongolia with high quality infrastructure to assist growth and to promote Mongolia's sustainable economic development and stable social progress.