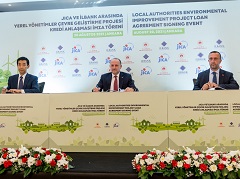 signing ceremony
On August 20, the Japan International Cooperation Agency (JICA) signed a loan agreement with the Iller Bank (*) in Ankara to provide a Japanese ODA loan of up to 45 billion yen for the Local Authorities Environmental Improvement Project.

This project aims to promote social infrastructure development in local authorities affected by an influx of Syrians through providing long-term finance to infrastructure projects including water supply, wastewater management, and solid waste management. It will contribute to the improvement of the living conditions of the Syrians and their host communities as well as the achievement of SDGs Goals 6, 11, and 16.

* A financial institution of the Government of Turkey. Iller Bank's main functions are financing social infrastructure projects carried out by local authorities, and providing consulting services to local authorities.

Details of the project are provided below.

1. Terms and Amount of Loan
Project title
Amount
(million yen)
Annual interest rate (%)
Repayment
period
(years)
Grace
period
(years)
Procurement
Project
Consulting services
Local Authorities Environmental Improvement Project
45,000
6-month JPY LIBOR+95bp
-
25
7
General untied
2. Executing Agency
Iller Bank
Address: Kızılırmak Mah. Ufuk Ünivesitesi Cad. No:12 Çukurambar 06510, Çankaya, Ankara, Turkey
Phone: +90-312-5087044, fax: +90-312-5087092

3. Planned Implementation Schedule
(1) Completion of project: July 2028 – with completion of the loan disbursements
(2) Issuing of letters of invitation for consulting services (including detailed design work):
No hiring of consultants is planned for this program.
(3) Tender announcement of initial procurement package for international competitive bidding for project construction:
Necessary procurement for sub projects utilizing sub loans from Iller Bank will be conducted with national competitive bidding.