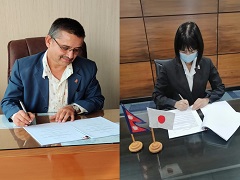 signing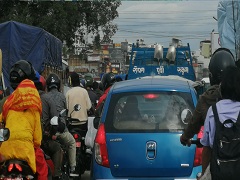 Traffic congestion around an intersection in Kathmandu Valley
On October 27, the Japan International Cooperation Agency (JICA) signed a Record of Discussions with the Government of Nepal in Kathmandu for the Project for Introduction of Urban Transport Management in Kathmandu Valley, a technical cooperation project.

The Kathmandu valley, including the Kathmandu Metropolitan Area, is one of the most developed areas in the country. In recent times, there has been an increase in population, and with that the number of vehicles has greatly increased too. On the other hand, the train service has not been developed, so they rely heavily on road transport and depend much on private vehicles, bikes, and buses. As a result, there is heavy traffic congestion during the morning and evening rush hours. In addition, the increase in traffic accidents is another issue in this region.In the center of the Kathmandu Valley, the streetscape remains from olden times. Since it is difficult to construct new roads amidst the dense housing, it is essential to improve existing roads and intersections and to use traffic lights for efficient traffic management.

This project will develop a plan for urban traffic management, improve intersections, enhance the capacity to operate and manage traffic lights, and strengthen practical skills in creating awareness of traffic safety, for appropriate traffic management. It aims to improve traffic congestion at the main traffic intersections in the Kathmandu Valley and promote road safety. The project will contribute to the achievement of SDGs Goals 3, 9, and 11.

Details for the project are provided below.
[Basic project information]
Country
Nepal
Project title
Project for Introduction of Urban Transport Management in Kathmandu Valley
Planned implementation period
42 months
Executing agency
Ministry of Infrastructure and Transport
Target region
Kathmandu Valley (Kathmandu Metropolitan Area: Kathmandu District, Lalitpur District, and Bhaktapur District)
Specific project details (provisional)
Appropriate traffic management measures will be implemented to improve traffic congestion and road safety in Kathmandu Valley, as follows:
1.Formulation of an urban traffic management plan
2.Capacity building for intersection improvement
3.Formulation of a manual for the improvement of traffic signal operation and management
4.Campaign activity for road safety