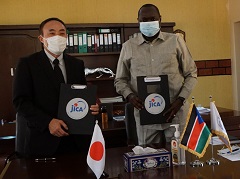 Signing
On November 30th, the Japan International Cooperation Agency (JICA) signed a Record of Discussions with the Government of the Republic of South Sudan in Juba for the Juba City Clean Water Supply Project, a technical cooperation project.

In Juba City, the capital city of the Republic of South Sudan, the coverage of water supply is less than 10% due to the rapid increase in water demand caused by the population growth of Internally Displaced Persons (IDPs), a lack of water supply infrastructure, ageing of the existing facilities, and insufficient maintenance arising from ongoing insecurity and internal conflicts. Accordingly, many of the residents depend on water supply trucks that sell untreated river water as it is, or shallow wells with high salinity. This leads to problems such as disease caused by poor water quality and pressure on household budgets from buying the water.

This project will strengthen the service capacity of the South Sudan Urban Water Company (SSUWC) by helping its staff enhance their capacity to operate and maintain the water supply facilities and to collect the water tariff. This will help with the reliable supply of safe and clean water in Juba City, and will contribute to the achievement of the SDGs Goals 6 and 16.

Details for the project are provided below.
[Basic project information]

| | |
| --- | --- |
| Country | Republic of South Sudan |
| Project title | The Juba City Clean Water Supply Project |
| Planned implementation period | 36 months |
| Executing agency | South Sudan Urban Water Corporation (SSUWC) Headquarters and Juba Station |
| Target region | Juba City |
| Specific project details (provisional) | This project aims to strengthen the capacity of the South Sudan Urban Water Company (SSUWC) to provide safe and clean water in Juba City, by enhancing its capacity to operate and maintain the water supply facilities and to collect the water tariff through the dispatch of experts, third-country training, and the provision of equipment. |