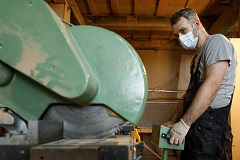 Bank of Georgia's MSME client
Japan International Cooperation Agency (JICA) signed a $100 million loan agreement with Joint Stock Company Bank of Georgia (Bank of Georgia) on December 9 to fund MSMEs in Georgia. This is the first loan project in Georgia after the resumption of Private Sector Investment and Finance and is co-financed with the Asian Development Bank (ADB). In addition, it is implemented by utilizing the "Facility for Accelerating Financial Inclusion in Asia: FAIA" (*1) established by JICA.

The Bank of Georgia is a leading universal commercial bank in Georgia, which has 212 branches across the country and is the second largest bank in terms of assets, loans, and deposits. It provides financial services to a wide range of customers by leveraging its brand recognition and business presence covering all of Georgia. It excels at financing to MSMEs and the retail sector. Its loans to MSMEs account for around 32% of Georgia's market, and it has plans to further increase this number in the future.

MSMEs play a crucial role in the Georgian economy, accounting for 99.7 percent of the total number of enterprises, and more than 62 percent of employment (as of 2017). However, their access to finance is limited because their businesses have higher risks compared to large corporations, and this has hampered their growth. Furthermore, under the COVID-19 pandemic, businesses in sectors such as tourism, construction, and manufacturing have been significantly affected, and improving access to finance has become an urgent issue.

The loan from JICA will help the Bank of Georgia expand lending to MSMEs and improve access to finance for MSMEs, which has become imminent due to COVID-19. Bank of Georgia also actively provides loans to women-owned MSMEs, to which part of the loan will be used, to support the "2X Challenge: Financing for Women," an initiative for women's economic empowerment by G7 development financial institutions. In terms of the Sustainable Development Goals (SDGs), the project will contribute to Goal 8 (improving access to financial services), Goal 9 (promoting industrialization by expanding access to finance for small enterprises), and Goal 17 (revitalizing partnerships). JICA will continue to accelerate the mobilization of private funds for economic and socio-economic development in Georgia.

(*1) Facility for Accelerating Financial Inclusion in Asia: FAIA
This is a facility launched as one of the pillars of the "Initiative on overseas loans and investments for ASEAN," aligning with the philosophy, "improve financial access in the ASEAN region and provide loans with regional financial institutions for the purpose of empowering women, low-income people, and MSMEs."

(*2) 2X Challenge: Financing for Women
This is an initiative adopted by various multilateral and bilateral development financial institutions, including JICA, at the G7 in June 2018. It has set out to mobilize $3 billion by 2020 for projects that contribute to women's economic empowerment. In order to further expand this initiative, in 2021 a new goal to mobilize $15 billion over the two years 2021-2022 was set. "2X" represents the goal of doubling both the amount and effectiveness of investments in women.