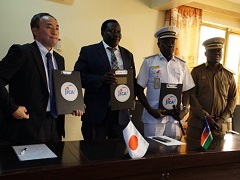 signing ceremony
On December 9, the Japan International Cooperation Agency (JICA) signed a Record of Discussions with the Government of the Republic of South Sudan in Juba for the Juba Clean City Project, a technical cooperation project.

In Juba City, which is the capital city of the Republic of South Sudan, the population has continued to grow and the amount of waste generated in the city has also continued to increase since the independence of the country in July 2011. However, due to the repeated deterioration of security and the resulting financial difficulties, there has been no progress in improving or strengthening the capacity of facilities, equipment, human resources, and organizations necessary for waste management, and the amount of waste collected in the city is estimated at about 7% of the total. Since general waste from households is not collected, it leads to inappropriate disposal such as illegal dumping by residents, burning, and dumping in rivers. In addition, there are concerns about deterioration of sanitation, environmental pollution, and health hazards, especially in low-income residential areas.

Since immediately after the country's independence, JICA has been training the operators needed to introduce waste collection and transportation services. Recently, JICA prepared an update for the existing waste management plan for Juba to propose to the government of the country, and in October 2021 JICA signed a Grant Agreement (G/A) to provide grant aid for "The Project for the Improvement of Solid Waste Management in Juba." It aims to provide collection and transportation vehicles and heavy equipment for final disposal site management.

This project will contribute to the improvement of sanitation in Juba by improving the technical capacity and strengthening the organization necessary for the operation of the entire waste management service. It will reach from waste collection and transportation to the final disposal site in order to establish an implementation system in line with the waste management plan, and contribute to SDGs Goals 11 and 12.

Details for the project are provided below.
[Basic project information]

| | |
| --- | --- |
| Country | Republic of South Sudan |
| Project title | The Juba Clean City Project |
| Planned implementation period | 48 months |
| Executing agency | Ministry of Environment and Forestry, State Ministry of Agriculture, Environment and Forestry of Central Equatoria State, Juba City Council, Juba County, Rajaf Payam |
| Target region | Juba City and the final disposal site in Rejaf Payam of Juba County |
| Specific project details (provisional) | This project aims to strengthen the waste management capacity of the relevant institutions in Juba City through the dispatch of experts, training in Japan and third countries, and appropriate use of equipment to be provided by the grant aid. It will also support the steady implementation of the waste management plan (draft of the updated waste management plan) and the establishment of the necessary systems. |