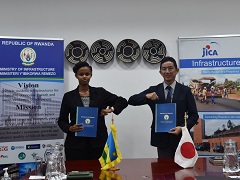 signing ceremony
On December 17, 2021 the Japan International Cooperation Agency (JICA) signed a Record of Discussions with the Government of Republic of Rwanda in Kigali for the Project for Urban Mobility Improvement in Kigali, a technical cooperation project.

Kigali, the capital city of the Republic of Rwanda, is a key junction for both transportation and trade at the intersection of the Northern and Central Corridors in East Africa. Here, there are concerns about worsening traffic congestion accompanying future population growth. Since the city's main public transportation service, buses, have limited routes and improper operational planning, there is a need to expand quality and quantity of the service. As the city has few flat areas in the mountainous terrain, it is difficult to increase road capacity through building new roads or widening lanes, so the current transportation network needs to be maximized. In 2020, the city of Kigali revised its master plan that describes the future vision of the city and its transportation, and is planning to promote public transportation, improve the urban transportation system, and promote a sustainable transportation network. However, there are issues that need to be addressed, such as the need for specific action plans for realization, clarification of the roles of related organizations, and the improvement of coordination and implementation capabilities of related organizations.

This project will establish the necessary mechanisms to promote the use of public transport in and around the city of Kigali by developing policies, measures, and plans for public transport and traffic flow management. It will also coordinate and centrally manage multiple urban transport-related organizations, thereby improving urban transport mobility for sustainable urban development. The project will contribute to the achievement of SDGs Goal 11.

Details for the project are provided below.
[Basic project information]

| | |
| --- | --- |
| Country | Republic of Rwanda |
| Project title | Project for Urban Mobility Improvement in Kigali |
| Planned implementation period | 36 months |
| Executing agency | Ministry of Infrastructure (MININFRA) |
| Target region | City of Kigali |
| Specific project details (provisional) | Through the dispatch of short-term experts and implementation of capacity development measures, the project will develop policies, measures, and plans for public transport and traffic flow management, and, in addition to proper management of urban transport, establish a mechanism to promote the use of public transport in the city of Kigali. |