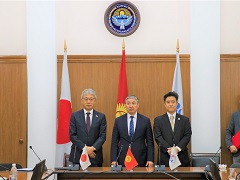 signing ceremony
On December 24, the Japan International Cooperation Agency (JICA) signed a grant agreement with the Government of The Kyrgyz Republic in Bishkek, to provide grant aid of up to 1.033 billion yen for the Project for the Protection from Ground Blizzard on Bishkek-Osh Road.

Along the Bishkek-Osh Road, a major international highway connecting Kyrgyz capital Bishkek with its second largest city Osh, some sections of the road are often impassable due to winter blizzards. This situation impacts domestic goods transportation and trade with neighboring countries. This project aims to enhance transportation capacity and safety on the Bishkek-Osh Road by developing infrastructure to prevent snowstorms. This project is expected to help with the maintenance of transportation infrastructure and stimulate its economy, thus contributing to the achievement of SDGs Goal 9.

Details for the project are provided below.
[Basic project information]
Country
The Kyrgyz Republic
Project title
The Project for the Protection from Ground Blizzard on Bishkek-Osh Road
Planned implementation period
44 months, including detailed design work and the bidding period
Executing agency
Ministry of Transport and Communications
Target region, facilities
Bishkek-Osh Road
Specific project details (provisional)
①Facility equipment procurement
Snow protection facilities
②Consulting services
Detailed design work, bidding assistance, procurement supervision