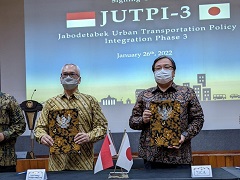 Signing ceremony
On January 26, the Japan International Cooperation Agency (JICA) signed a Record of Discussions with the Government of the Republic of Indonesia in Jakarta for the Project for JABODETABEK Urban Transportation Policy Integration Project Phase 3, a technical cooperation project.

This project is planned for Jakarta metropolitan area (JABODETABEK). It aims to strengthen central and local governments' capability to implement Transit-Oriented Development (TOD) [1] by improving their capacity to formulate Urban Development Policy, coordinate town planning and transportation among related organizations, and draw up plans for a pilot site development. This will assist urban development planning based on a public transport system, and will contribute to SDGs Goals 9 (Industry, Innovation and Infrastructure) and 11 (Sustainable Cities and Communities).

The Indonesian government seeks to remedy a significant deterioration in traffic congestion and the environment caused by growth in population and a resulting increase in the number of vehicles. The government has a goal of raising the public transport share rate (the share of public transport as a proportion of all transportation), and JICA has already assisted in revision of the transport master plan for JABODETABEK, and has promoted financial cooperation to build urban railway. The project is aimed at coordinating town planning with the public transport system through helping to formulate development policy for a public transit-oriented city, incorporating transport network and urban development. In addition, the project will select several lines and stations as a pilot site, and will make a plan to strengthen transport hubs and station environments. Through the project the coordination mechanism among the related organizations will be strengthened to further promote TOD and realize a more livable and sustainable community based on public transport in JABODETABEK.

[1] This refers to initiatives aimed at development of compact urban areas, where mobility do not have to rely on private vehicles, by concentrating urban functions around public transportation hubs such as railway stations.

Details for the project are provided below.
[Basic project information]
Country
The Republic of Indonesia
Project title
JABODETABEK Urban Transportation Policy Integration Project Phase 3
Planned implementation period
39 months
Executing agency
Coordinating Ministry of Economic Affairs (CMEA), Ministry of Agrarian Affairs and Spatial Planning (ATR/BPN), Ministry of National Development Planning (BAPPENAS), Ministry of Transportation (MOT), Greater Jakarta Transportation Management Agency (BPTJ), Provincial Government of DKI Jakarta
Target region
Jakarta Metropolitan Area (JABODETABEK)
Specific project details (provisional)
The project conducts activities aiming for the three outputs below:
1) Urban Development Policy of JABODETABEK to promote TOD is formulated.
2) Capacity to coordinate urban development based on a public transport system in JABODETABEK is strengthened to promote TOD.
3) TOD plans at pilot sites are formulated.