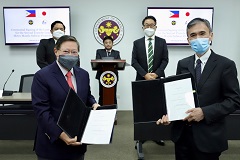 Signing ceremony
On February 10, the Japan International Cooperation Agency (JICA) signed a loan agreement with the Government of the Republic of the Philippines in Manila to provide a Japanese ODA loan of up to 253,307 million yen for the Metro Manila Subway Project (Phase 1) (II).

The project will construct the first subway (15 stations underground, approximately 27 kilometers in length) in the Philippines to connect Valenzuela City in the northern part of Metro Manila to Pasay City in the southern part, thereby accommodating the increasing transportation needs and alleviating serious traffic congestion in Metro Manila. This project will contribute to the achievement of SDGs goal 9 (industry, innovation and infrastructure), 11 (sustainable cities and communities) and 13 (climate action).
The loan funds will be allocated to: 1) constructing stations, underground tunnels between stations, a depot, and other public works, 2) procuring rail systems and rolling stocks, and 3) consulting services (including tender assistance, construction supervision and Transit Oriented Development support [1]).

Special Terms for Economic Partnership (STEP)* will apply to the Japanese ODA loan for this project, and Japanese technology, including underground tunnel excavation, construction in narrow areas, signal systems, and vehicles being constructed in the project.

* STEP refers to special assistance terms for promoting the visibility of Japanese aid through a transfer of outstanding Japanese technology and expertise to developing nations. The main contract is Japan tied and subcontracting is general untied. The main agreement partner must generally be a Japanese company, an overseas subsidiary of a Japanese company, or a joint venture between a Japanese company and the borrowing country where the Japanese company is the lead partner, although under certain conditions a joint venture between a Japanese company (which is the lead partner of the joint venture) and an affiliated company (as accounted under the equity method) of a Japanese company may be the main agreement partner.

Details for the project are provided below.


Project title
Amount
(million yen)
Annual interest rate (%)
Repayment
period
(years)
Grace
period
(years)
Procurement
Project
Consulting services
Metro Manila Subway Project (Phase 1) (II)
253,307
0.1
0.01
40
13
Japan tied
2. Executing Agency
Department of Transportation
Address: S. Osmena, Clark Freeport, Angeles, Pampanga, Philippines
Phone: +63-2-8790-8400

3. Planned Implementation Schedule
(1) Completion of project: November 2027 (when the facilities are put into service)
(2) Issuing of letters of invitation for consulting services (including detailed design work): November 2018 (already hired)
(3) Tender announcement of initial procurement package for international competitive bidding on project construction:
Procurement package title: Package CP101
Release date: February 2018 (already contracted)

4. JICA Contact Information
For further information about the procurement schedule, please contact the party
listed below.
Contact Point for Transportation Sector, JICA Philippines Office
Address: 40th Floor, Yuchengco Tower, RCBC Plaza, 6819 Ayala Avenue, Makati City, Philippines
Phone: +63-2-8889-7119, fax: +63-2-8889-6850