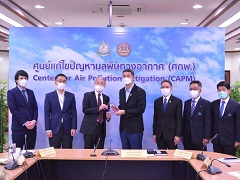 Japanese and Thai people involved in this project
On February 25 , the Japan International Cooperation Agency (JICA) signed a Record of Discussions with the Government of Thailand in Bangkok for the Project for Sustainable Management of PM2.5 Prevention and Reduction Measures, a technical cooperation project.

In recent years, Thailand has been suffering serious air pollution caused by PM2.5 (particulate matter), and its adverse effects on the health and quality of life of the Thai people have become apparent. It is assumed that there are various sources of PM2.5, including slash-and-burn agriculture, industrialization, urbanization, and transboundary smog from neighboring countries. However, due to a combination of meteorological and geographical conditions, serious air pollution caused by PM2.5 has been observed at certain times of the year. PM2.5 pollution in the Bangkok Metropolitan Administration and its surrounding provinces becomes more serious mainly during the dry season. Compared to the air quality standard set by the Thai government, it tends to exceed the standard significantly especially in January and February. Though Thailand has been developing air pollution monitoring system, in order to prevent and reduce PM2.5 air pollution, it is important to identify and analyze the causes and structure of air pollution based on air pollution monitoring, and to plan and evaluate effective air pollution mitigation measures based on information and data obtained. As one of the parties to the ASEAN Transboundary Haze Pollution Agreement, Thailand is expected to contribute to strengthening the efforts of neighboring countries.

This project aims to improve the emission source inventory of air pollution caused by PM2.5 (information on the amount of air pollutants generated at each point and by each substance) and to develop a simulation model based on its relationship with meteorological and geographical conditions in the Bangkok Metropolitan Administration and its surrounding provinces in Thailand. The project will contribute to SDGs Goal 11 (Sustainable cities and communities).

Details for the project are provided below.
[Basic project information]
Country
Kingdom of Thailand
Project title
Project for Sustainable Management of PM2.5 Prevention and Reduction Measures
Planned implementation period
36 months
Executing agency
Pollution Control Department, Ministry of Natural Resources and Environment (MONRE/PCD)
Target region
Bangkok Metropolitan Region (BMR) (Bangkok Metropolitan Administration, Nakhon Pathom, Pathum Thani, Nonthaburi, Samut Prakan, Samut Sakhon)
Specific project details (provisional)
Bangkok Metropolitan Region (BMR) (Bangkok Metropolitan Administration, Nakhon Pathom, Pathum Thani, Nonthaburi, Samut Prakan, Samut Sakhon)
Specific project details: To promote sustainable management of air quality by strengthening the capacity for planning and evaluation of policy and measurements to prevent and reduce air pollution caused by PM2.5 through the following activities:
・Improvement of the PM emission inventory
・Development of a simulation model
・Assessment of pollution structure
・Formulation and evaluation of effective pollution control measures
・Sharing knowledge and experience with neighboring countries