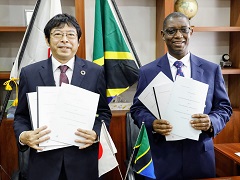 signing ceremony
On 4 February2022, the Japan International Cooperation Agency (JICA) signed a grant agreement with the Government of the United Republic of Tanzania in Dar es Salaam, to provide grant aid of up to 2,726 million yen for The Project for the Rehabilitation of Kigoma Port.

Kigoma port is on the western shore of Lake Tanganyika in eastern Tanzania. It serves as a hub for the Central Corridor connecting Tanzania, Rwanda, Burundi, and DRC.

Under this project, the capacity of Kigoma port will be enhanced through construction of the passenger terminal building, rehabilitation of the passenger wharf, and improved access roads. This project will contribute to strengthen the Central Corridor, and will provide stable transportation of people and commodities along the coastal areas of Lake Tanganyika and the passenger and cargo transportation service will be upgraded. This will result in improvement in transportation of people and distribution of cargoes in the coastal area of Lake Tanganyika and its hinterland, which will contribute to the vitalization of economic activities and industrial promotion, and it is expected to contribute to area stability and peace. This project will contribute to the achievement of SDGs Goals 8 (decent work and economic growth) and 9 (industry, innovation and infrastructure).

Details for the project are provided below.
[Basic project information]
Country
United Republic of Tanzania
Project title
The Project for the Rehabilitation of Kigoma Port
Planned implementation period
42 months, including detailed design work and the bidding period
Executing agency
Tanzania Port Authority
Target region
Kigoma Region, Kigoma city and Ujiji city, Kigoma Port
Specific project details (provisional)
①Facility improvements/equipment procurement for civil works
②Consulting services
Detailed design work, bidding assistance, construction/procurement supervision, (as guidance in managing the facilities)