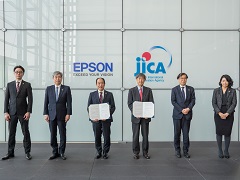 signing ceremony
On March 25, the Japan International Cooperation Agency (JICA) signed a memorandum of comprehensive cooperation with Seiko Epson Corporation (Epson) with the purpose of contributing to addressing challenges in developing countries and achieving the SDGs. The memorandum was signed by JICA President KITAOKA Shinichi and Mr. OGAWA Yasunori, President and CEO of Epson.

By combining JICA's experiences of international cooperation in developing countries and Epson's ICT technologies such as printing and projecting, the two organizations will work together and collaborate primarily in the following areas:

1. Empirical research activities contributing to the achievement of the SDGs.
2. Promotion of innovation to solve issues in educational fields in developing countries.
3. Human resource development in developing countries.
4. Promotion of understanding of the SDGs in Nagano Prefecture.

With the conclusion of this memorandum, JICA and Epson will work together to create a positive impact in regard to resolving development issues in developing countries and to contribute to the achievement of the SDGs.