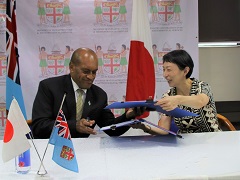 signing ceremony
On March 29, the Japan International Cooperation Agency (JICA) signed a grant agreement with the Government of the Republic of Fiji in Suva, to provide grant aid of up to 2,931 million yen for the Project for the Reconstruction of Tamavua-i-wai Bridge.

The objective of the project is to improve the resilience of Queens Road, which is the most important road connecting to the capital city of Suva located on the island of Viti Levu. It will help protect the road against national disaster through the reconstruction of the Tamavua-i-wai Bridge on Queens Road, thereby contributing to the safety and stability of transport infrastructure and the improvement of transport capabilities. This project will contribute to the achievement of SDGs Goals 3 (good health and well-being), 9 (industry, innovation and infrastructure), and 13 (climate action).

In October 2020, JICA signed a grant agreement to provide a grant of up to 60 million yen in aid for the detailed design of the project.

Details for the project are provided below.

[Basic project information]
Country
The Republic of Fiji
Project title
The Project for the Reconstruction of Tamavua-i-wai Bridge
Planned implementation period
62 months, including detailed design work and the bidding period
Executing agency
Ministry of Infrastructure and Meteorological Services, Fiji Roads Authority (FRA)
Target region, facilities
Suva, Viti-Levu Island
Specific project details (provisional)
① Facility construction
Building a new 90 m-long, 10 m-wide bridge (including pavements) with 2 lanes, removing part of the existing bridge (abutments), and building a road linking to the bridge.
② Consulting services
Detailed design work, bidding assistance, construction supervision