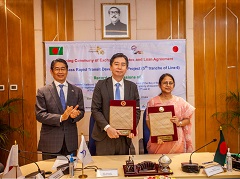 Signing ceremony
On March 29, the Japan International Cooperation Agency (JICA) signed a loan agreement with the Government of the People's Republic of Bangladesh in Dhaka to provide a Japanese ODA loan of up to 18,285 million yen for the Dhaka Mass Rapid Transit Development Project (V).

In Dhaka, the capital of Bangladesh, traffic congestion and air pollution are becoming more severe as a result of the city's rapid urbanization and increased traffic volumes. This project aims to contribute to the country's economic development and the improvement of its urban environment through the construction of MRT (Mass Rapid Transit) Line-6, which will connect the northern and southern areas of Dhaka and form a public transportation network, thereby meeting the transportation demand in the city. This project will contribute to the achievement of SDGs Goal 9 (Industry, Innovation and Infrastructure), 11 (Sustainable Cities and Communities) and 13 (Climate Action).

MRT Line-6 will be the first mass rapid transit system in the country. Trial operations have begun along some segments of the line with partial commercial operations scheduled to begin within 2022, marking the 50th anniversary of diplomatic relations between Japan and Bangladesh.

Details for the project are provided below.
Project title
Amount
(million yen)
Annual interest rate (%)
Repayment
period
(years)
Grace
period
(years)
Procurement
Project
Consulting services
Dhaka Mass Rapid Transit Development Project (V)
18,285
0.70
0.01
30
10
General untied
2. Executing Agency
Dhaka Mass Transit Company Limited
Address: 71-72 Old Elephant Road, Eskaton Garden, Dhaka-1000, Bangladesh
Phone: +880-2-55138099, FAX: +880-2-9353507

3. Planned Implementation Schedule
(1)Completion of project: December 2025 – with all sections put into service
(2)Issuing of letters of invitation for consulting services (including detailed design work): Already hired
(3)Tender announcement of initial procurement package for international competitive bidding on project construction: Already contracted