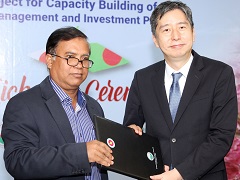 Signing ceremony held on April 19(Added after posting this article)
On March 27, the Japan International Cooperation Agency (JICA) signed a Record of Discussions with the Government of the People's Republic of Bangladesh in Dhaka for the Project for Capacity Building of BEZA on EZ Management and Investment Promotion, a technical cooperation project.

The project aims to improve the investment climate in Economic Zones (EZs) by establishing a self-sustaining operational structure for the One-Stop Service Centre (OSSC)—which is responsible for receiving applications and granting permits for investment-related procedures at the headquarters of the Bangladesh Economic Zones Authority (BEZA) and in regional EZs—as well as by strengthening BEZA's capacity for operational management of EZs and for investment promotion in EZs. The provision of one-stop services and the introduction of a customs clearance system in EZs are expected to benefit enterprises investing in the EZs, including Japanese enterprises, resulting in the smooth execution of investment-related procedures and business operations. This project will also contribute to the achievement of SDGs Goal 8 (Decent work and economic growth) and Goal 9 (Industry, innovation and infrastructure). This is a Technical Cooperation Project conducted for the purpose of capacity and institutional development in relation to the Japanese ODA loan project called the ''Foreign Direct Investment Promotion Project", which financially supports the development of the basic infrastructure of BSEZ (Bangladesh Special Economic Zone) in Araihazar near Dhaka.

Details for the project are provided below.
[Basic project information]

| | |
| --- | --- |
| Country | People's Republic of Bangladesh |
| Project title | Project for Capacity Building of BEZA on EZ Management and Investment Promotion |
| Planned implementation period | 60 months |
| Executing agency | Bangladesh Economic Zones Authority (BEZA) |
| Target region, facilities | Araihazar (near Dhaka), Mirsharai, Southeast Chattogram (Chittagong) Division and Moheshkhali, Cox's Bazar Division. |
| Specific project details (provisional) | To improve the investment climate of Economic Zones (EZs) in Bangladesh, the Project team will improve the operation of the central OSSC at the headquarters of BEZA by organizing the necessary measures to further simplify and speed up one-stop services and promote the establishment of a regional OSSC on a trial basis. In addition, the capacity of BEZA for managing EZs and investment promotion activities will be strengthened through the full-scale operation of a unified information management system for the development of multiple EZs as well as through the formulation and use of investment promotion tools. |