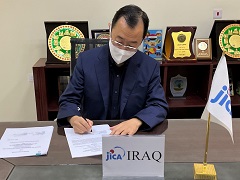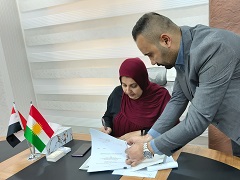 On March 29, the Japan International Cooperation Agency (JICA) signed a Record of Discussions with the Kurdistan Regional Government of the Republic of Iraq in Erbil for the Technical Cooperation Project "Capacity Development Project for Agriculture Research and Extension."

Agriculture makes up a large part of rural employment in Iraq and is positioned as an important industry for recovery from conflict and diversification from the oil-dependent economy. However, agricultural land has been devastated as a result of a series of conflicts and droughts, while at the same time little progress has been made in introducing modern agricultural technology. In the Kurdistan Region where many farmers are working in remote areas, the knowledge of modern agricultural techniques is limited even in governmental research institutes. As a result, the government has been unable to provide sufficient technical agricultural guidance to farmers, who in turn are unable to produce quality crops. For this reason, improving agricultural technology is a priority, and the Agriculture Research Stations responsible for improving crop varieties and developing new agricultural technologies are positioned as playing the central role for improving the agricultural technology.

This project will develop human resources who can autonomously and continuously carry out planning, budgeting, research, and problem identification and analysis for the Agriculture Research Stations in the Kurdistan Region. The project promotes the research's collaboration with the extension workers in order to communicate with and provide the information to the farmers. Enhancing the capacity of the Agriculture Research Stations is expected to provide farmers with useful information that will facilitate the provision of a stable supply of high-quality crops to people in the Kurdistan Region. The project will also contribute to the SDGs (Sustainable Development Goals) Goal 2 (Zero hunger).

[Basic project information]

| | |
| --- | --- |
| Country | The Republic of Iraq |
| Project title | Capacity Development Project for Agriculture Research and Extension |
| Planned implementation period | 48 months |
| Executing agency | Ministry of Agriculture and Water Resource |
| Target region | Kurdistan Region |
| Specific project details (provisional) | Develop human resources for the Agriculture Research Stations in the Kurdistan Region; improve research planning and implementation capacity; strengthen cooperation between the Department of Agricultural Research and the Department of Agriculture Extension; establish research management; and strengthen the operational capacity of the Agriculture Research Stations. |