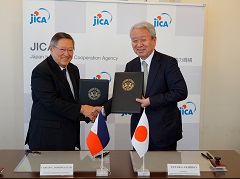 signing ceremony
On April 25, the Japan International Cooperation Agency (JICA) signed a loan agreement with the Government of the Republic of the Philippines in Tokyo, Japan to provide a Japanese ODA loan of up to 30,000 million yen for the COVID-19 Crisis Response Emergency Support Loan (Phase 2).

The objective of the program loan is to support the government's emergency response against Covid-19 crisis to promote infection prevention measures, through providing budget support co-financed by the Asian Development Bank (ADB) This project will also contribute to the achievement of SDGs Goals 1 (no poverty), 3 (good health and well-being), and 8 (decent work and economic growth).

Details for the project are provided below.

Project title
Amount
(million yen)
Annual interest rate (%)
Repayment
period
(years)
Grace
period
(years)
Procurement
Project
Consulting services
COVID-19 Crisis Response Emergency Support Loan (Phase2)
30,000
0.01
N/A
15
4
General untied
2. Executing Agency
Department of Finance
Address: DOF Building, BSP Complex, Roxas Boulevard, Manila 1004, Philippines
TEL:+(632) 8523-9216 / 8525-4194

3. Planned Implementation Schedule
(1) Completion of project:
September 2022 – when the loan is executed
(2) Issuing of letters of invitation for consulting services (including detailed design work):
No hiring of consultants is planned for this program.
(3) Tender announcement of initial procurement package for international competitive bidding on project construction:
No work in conjunction with bidding is planned for this program.