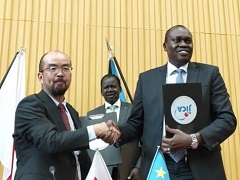 Signing ceremony
On April 27, the Japan International Cooperation Agency (JICA) signed a grant agreement with the Government of the Republic of South Sudan inJuba, to provide grant aid of up to 2,655 million yen forthe Project for Construction of Bridges in Juba.

Under this project, road traffic safety and increased traffic capacity will be ensured through the reconstruction of four bridges in Juba, thereby contributing to the improved convenience and logistics of transportation. This project is expected to further strengthen economic growth in South Sudan by bolstering economic infrastructure and to contribute to the achievement of SDGs (Sustainable Development Goals) Goals 9 (Industry, innovation and infrastructure), 11 (Sustainable cities and communities), and 13 (Climate action).

Details for the project are provided below.
[Basic project information]
Country
The Republic of South Sudan
Project title
The Project for Construction of Bridges in Juba
Planned implementation period
35 months, including detailed design work and the bidding period
Executing agency
Ministry of Roads and Bridges
Target region, facilities
Juba
Specific project details (provisional)
①Facility improvements
Reconstruction of bridges, approach roads, and revetment

②Consulting services
Detailed design work, construction/procurement supervision