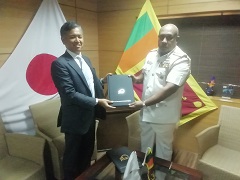 Signing ceremony
On May 4, the Japan International Cooperation Agency (JICA) signed a Record of Discussions with the Government of the Democratic Socialist Republic of Sri Lanka in Colombo for the "Project for Institutionalization Support to Establish an In-house Advanced Oil Spill Incident Management Training Program for Disaster Mitigation and Marine Environment Protection".

Sri Lanka is located along one of the most important sea lanes connecting Asia with the Middle East and Europe, which serves as a major route for the transportation of crude oil.
In recent years, the increase in economic activity, exploitation of marine resources, development of large-scale ports, and increase in marine traffic in the southern region of Sri Lanka have escalated the risk of ocean contamination. Despite this fact, the Sri Lanka Coast Guard lacks a continuous in-house training system concerning oil spill management. Considering that, the project aims to improve the country's capacity for oil spill management through the training of Sri Lanka Coast Guard (SLCG) officers and the establishment of a continuous in-house training system with the support of the Japan Coast Guard. The project will contribute to the achievement of SDGs (Sustainable Development Goals) Goals 9 (Industry, innovation and infrastructure) and 14 (Life below water).

Details for the project are provided below.

[Basic project information]

| | |
| --- | --- |
| Country | Democratic Socialist Republic of Sri Lanka |
| Project title | Project for Institutionalization Support to Establish an In-house Advanced Oil Spill Incident Management Training Program for Disaster Mitigation and Marine Environment Protection |
| Planned implementation period | 36 months |
| Executing agency | Sri Lanka Coast Guard |
| Target region | SLCG Headquarters (Mirissa), Rear Headquarters (Colombo), Advanced Training Center (Kirinda), Galle / Colombo Harbours, Mirissa / Kirinda / Dikovita Fishery Harbours |
| Specific project details (provisional) | Improving the capacity for oil spill management through the training of Sri Lanka Coast Guard (SLCG) officers and the establishment of a continuous in-house training system. |