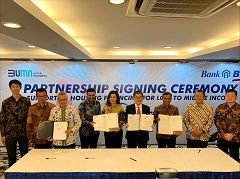 Signing ceremony
On May 18, the Japan International Cooperation Agency (JICA) signed a 7 billion Japanese yen loan agreement with PT Bank Tabungan Negara Persero Tbk ("BTN") in the Republic of Indonesia through Private Sector Investment and Finance (PSIF). The purpose of this loan is to promote housing loans for low-middle income segment in the country. This loan is co-financed with Citi and PT Bank Central Asia Tbk. In addition, this loan is in line with the Initiative on Overseas Loan and Investment for ASEAN*1 announced by the Government of Japan in 2019, and is implemented by utilizing the "Facility for Accelerating Financial Inclusion in Asia": (FAIA)*1 .

In Indonesia, due to the growth of population and household migration from rural to urban areas, the annual housing demand exceeds 1 million, mainly in urban areas. On the other hand, the country's housing loan balance is only 4% of its GDP, lower than that of neighboring countries such as Thailand (22%) and Singapore (50%). Limited financial access to housing loan is a critical issue for a household to have its own house. It has been estimated that "self-constructed houses," built by low-middle income residents themselves, account for approximately 70% of all houses in Indonesia. However, these houses have safety issues such as being at a high risk of exposure to natural disasters. The need for safe and clean houses with sanitation is also increasing in terms of preventing infectious diseases such as COVID-19.

This project aims to increase the supply of safe and sanitary houses for low-middle income segment in Indonesia by improving access to housing loan and contributes to the SDGs (Sustainable Development Goals)—namely, Goals 1 (No poverty), 3 (Good health and well-being), 10 (Reduced inequalities), and 17 (Partnerships for the goals).

BTN is one of four state-owned banks in Indonesia and has a particular strength in housing loans. BTN has the largest share of housing loan sector in Indonesia at approximately 40%. It implements the Indonesian Government's "One Million House Program" and accounts for approximately 86% share of housing loan market to low-middle income segment which benefits from the government subsidy.