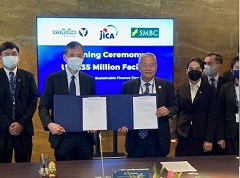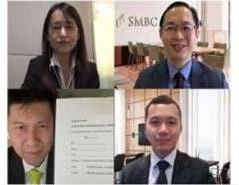 signing ceremony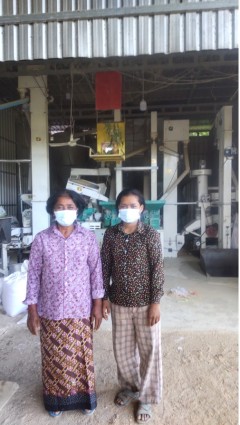 Farmers who are the borrower from ACLEDA Bank
On May 13, the Japan International Cooperation Agency (JICA) signed a loan agreement with ACLEDA Bank Plc. (ACLEDA Bank) for Private Sector Investment Finance of up to 85 million US dollars to finance a loan to Cambodia's agricultural sector. The loan is co-financed with Sumitomo Mitsui Banking Corporation (SMBC), and the Sustainable Finance Framework (*1) agreed upon by the two institutions in March 2021 will apply to the loan.

The agricultural sector plays a highly important role in Cambodia's economy, accounting for approximately 20% of GDP and 30% of employment. On the other hand, access to finance in the agricultural sector is limited to about 9% of the total amount of loans in the country, and more than half of farmers do not have any access to finance. About 90% of Cambodia's poor live in rural areas, where about 80% of the population is engaged in agriculture, and the income in these areas is only around 50–60% of that in urban areas, creating an economic disparity.

This loan will contribute to improving access to finance for these rural farmers through ACLEDA Bank, the financial institution with the largest loan balance in the agricultural sector in Cambodia. The loan aims to contribute to sustainable economic growth in Cambodia by supporting the expansion of lending to the agricultural sector, and will contribute to SDGs Goal 1 (No poverty), 2 (Zero hunger), 5 (Gender equality), and 8 (Decent work and economic growth). It will also be implemented in line with the Initiative on Overseas Loan and Investment for ASEAN (*2) announced by the Japanese government in 2019.

ACLEDA Bank is the largest commercial bank in Cambodia, originating from an NGO established by the United Nations Development Programme (UNDP) and the International Labour Organization (ILO) in 1993 after the end of Cambodia's civil war. Since its founding, it has focused on financial inclusion in Cambodia, especially for farmers and micro-, small-, and medium-sized enterprises. Listed on the Cambodia Securities Exchange in May 2020, it is now a leading Cambodian bank working on domestic financial inclusion while steadily expanding its business. As of the end of December 2021, 30% of overall investment in the bank's management comes from Japanese financial institutions, including SMBC.

ACLEDA Bank is also encouraged to promote female managers and employ female staff, with more than 30% of its senior management and about 40% of its employees being women. The loan meets the criteria of the "2X Challenge: Financing for Women"(*3) initiative set out by the development finance institutions from the G7 countries, and it is expected that at least 30% of the loan amount will be extended to female farmers and female-owned micro-, small-, and medium-sized businesses through ACLEDA Bank. This loan will improve access to finance for women in the agricultural sector and support the further advancement of women in Cambodia.


(*1) Sustainable finance refers to the use of funds to resolve issues preventing the realization of a sustainable economy and society, while taking into account environmental, social, and governance (ESG) perspectives. The JICA and SMBC Sustainable Finance Framework will utilize JICA's expertise as an ODA implementing agency in setting agendas, monitoring, and measuring project effects in developing countries, and by using common methods for measuring business impacts and monitoring co-financing, it will assess, share, and manage the development impact created by lenders. Having incorporated these methods, the framework has been declared by an external assessment organization to be consistent with and compliant with various internationally recognized sustainable finance principles as an approach to achieving the SDGs. Sustainable finance principles include the Green Loan Principles, Sustainability Linked Loan Principles, Green Bond Principles, Social Bond Principles, and Sustainability Bond Guidelines established by the International Capital Markets Association (ICMA), the Loan Market Association (LMA), and other organizations. With the introduction of this framework, JICA will continue to actively promote collaboration together with SMBC to accelerate private capital mobilization for economic and social development in developing countries and regions.

(*2) Initiative on Overseas Loan and Investment for ASEAN: An initiative launched in November 2019 following the Prime Minister of Japan's statement at the 22nd ASEAN-Japan Summit regarding the financial inclusion sector in the ASEAN and Asian region. The statement commits Japan to "doubling JICA's investment and financing in the future, with a focus on the ASEAN region, in the areas of high-quality infrastructure, access to finance, support for women, and green investment, with the aim of mobilizing funds, including those from the private sector."
(*3) 2X Challenge: Financing for Women: An initiative adopted by the G7 development finance institutions (including JICA) on the occasion of the G7 Leaders' Summit in June 2018, aimed to mobilize 3 billion US dollars by 2020 for projects that contributed to women's economic empowerment. In 2021, the goal of mobilizing 15 billion US dollars over the two years from 2021 to 2022 was set to further expand this initiative. "2X" refers to the goal of doubling not only the amount of investment in women, but also the effectiveness of said investment.