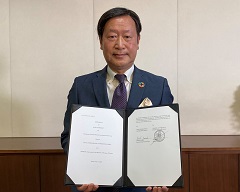 Executive Senior Vice President Yamada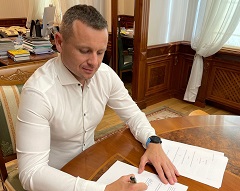 Minister Marchenko
On June 17, JICA Executive Senior Vice President YAMADA Junichi and Ukraine's Finance Minister Sergii Marchenko signed a Loan Agreement (L/A) to add 65,000 million yen to the "Emergency Economic Recovery Development Policy Loan". The total amount of Japanese ODA loan in this project is 78,000 million yen.

The objective of the loan is to support the implementation of the Ukrainian economic policy reforms, which include fostering de-monopolization and anticorruption institutions, strengthening land and credit markets, and bolstering the social safety net. The loan will support these reforms by offering financial assistance to Ukraine, which is facing an economic crisis due to the impact of a military invasion, with co-financing from the World Bank. It aims to contribute to social and economic stabilization and the promotion of development efforts in Ukraine through various reforms, as well as the achievement of SDGs (Sustainable Development Goals) Goals 3 (Good health and well-being), 8 (Decent work and economic growth), and 16 (Peace, justice and strong institutions).

On May 16, as JICA's first form of assistance to the Ukrainian government since the military invasion, a L/A of up to 13,000 million yen was signed. The additional L/A follows an intergovernmental exchange of notes on June 7 between State Minister for Foreign Affairs SUZUKI Takako and Ukrainian Ambassador to Japan Sergiy Korsunsky on the provision of additional funds, under which JICA, the implementing agency of the ODA loan, and the Ministry of Finance of Ukraine agreed on specific loan conditions and other details.

Comment from Executive Senior Vice President Yamada
"This additional loan, as well as the initial financial assistance, will be used for expenditures essential to the operation of the state, such as healthcare, education, social security, and the salaries of public servants. We hope that this loan will contribute to improving the financial management of Ukraine, which is suffering from serious financial difficulties due to the prolonged aggression."

Comment from Finance Minister Marchenko
"Last month, Ukraine received the Emergency Economic Recovery Development Policy Loan from JICA in the amount of JPY 13 billion. This loan helped us to cover critical public services, particularly social services, education, healthcare, and government services. Today, we highly appreciate the decision made by the Japanese government to increase this financial assistance to JPY 78 billion in the form of a Development Policy Loan, in coordination with the World Bank. Such support is invaluable for Ukraine and the Ukrainian people in light of the full scale unprovoked Russian aggression."

Details for the project are provided below.

1. Terms and Amount of Loan
Project title
Amount
(million yen)
Annual interest rate (%)
Repayment
period
(years)
Grace
period
(years)
Procurement
Project
Consulting services
Emergency Economic Recovery Development Policy Loan
13,000
1.00
N/A
30
10
General untied
2. Executing Agency
Ministry of Finance of Ukraine
Address: 11 Mezhyhirska Street, Kyiv, 04071, Ukraine

3. Planned Implementation Schedule
(1) Completion of project: June 2022 - with completion of the loan disbursements
(2) Issuing of letters of invitation for consulting services (including detailed design work): no hiring of consultants is planned for this project.
(3) Tendering of announcement of initial procurement package for international competitive bidding on project construction: no procurement is planned for this project as it is the financial assistance.