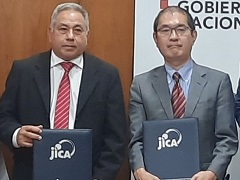 Signing ceremony
On November 14, 2022, the Japan International Cooperation Agency (JICA) signed a grant agreement with the Government of the Republic of Paraguay in Asuncion, the country's capital, to provide grant aid of up to 1,936 million yen for the Project for the Improvement of the Water Supply System in Villa Hayes City.

The objective of the project is to strengthen the water supply capacity of the city of Villa Hayes, which has a population of approximately 50,000 and is located 30 km northwest of Asuncion, by installing a water treatment plant and other facilities that respond to climate change. The project will thereby contribute to the stabilization of the water supply and the improvement of living conditions in the city. This project will also contribute to the achievement of SDGs (Sustainable Development Goals) Goals 6 (Clean water and sanitation) and 13 (Climate Action).

Details for the project are provided below.

[Basic project information]
Country
The Republic of Paraguay
Project title
The Project for the Improvement of the Water Supply System in Villa Hayes City
Planned implementation period
43 months, including detailed design work and the bidding period
Executing agency
Ministry of Public Works and Communications (Potable Water and Sanitation Direction)
Target region, facilities
The City of Villa Hayes, Presidente Hayes Department
Specific project details (provisional)
1.Facility improvements and construction/equipment procurement
Water intake facility, water plant, water transmission and distribution pipes, and SCADA system.
2.Consulting services
Detailed design work, bidding assistance, construction/procurement supervision