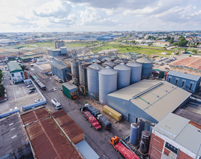 Crop processing plants project
On May 22, the Japan International Cooperation Agency (JICA) established the Facility for Supporting Agricultural supply chain and Food security Enhancement (SAFE), a debt facility of up to US$1 billion, as part of its private sector investment finance operations.

This facility was established as part of Japan's contribution in light of Prime Minister Kishida Fumio's statement on May 20, 2023 at the G7 (Group of Seven) Hiroshima Summit—at the side event on the Partnership for Global Infrastructure and Investment (PGII)—that the G7 would contribute to the sustainable development of partner countries through public and private infrastructure investment.

[Background of the Facility]
Since the Russian invasion of Ukraine, international food prices (especially for wheat, maize, and other grains) have skyrocketed, affecting the lives of people worldwide—including those in Japan. In addition, amid concerns of irregular harvests in various countries due to climate change, there are also concerns that prices will continue to soar in the future as food is stockpiled and exports are restricted around the world. Further, fertilizer prices have remained high—approximately three times higher than they were in 2020. This is due to factors such as price hikes for natural gas, fertilizer's main raw material. With the product being key to large-scale food production, its persistently high cost is expected to further push up food prices.
In light of this situation, the international community has affirmed its commitment to pursuing a coordinated response to food security challenges, including global price increases and shortages of food commodities and fertilizers, and the G7 has also stated the importance of engagement with the private sector to build resilient and sustainable agricultural and food systems.

[Facility Summary]
The facility aims to provide financing for the following types of projects:
(1) Projects that involve food-system strengthening/agriculture-related climate-change actions (adaptation)
(2) Projects that support the agricultural sector through financial institutions
(3) Projects that support small farmers through agricultural trading companies
(4) Projects that offer emergency assistance for the import/export of food, fertilizer, etc. in fragile states

Total amount of the facility: up to US$1 billion
Financing terms and conditions: normal financing terms and conditions for private sector investment finance are applied.
Co-financing: co-financing with international development finance institutions (MDBs), bilateral development finance institutions (DFIs), or commercial banks of G7 countries with strong track records is required.
Implementation period: 5 years from the establishment of the facility

By supporting climate-change adaptation in the agricultural sector, the facility will contribute to SDGs (Sustainable Development Goals) Goals 1 (No poverty), 2 (Zero hunger), 3 (Good health and well-being), and 13 (Climate action).

The facility is an initiative based on JICA's Global Agenda No. 5, "Agriculture and Rural Development (Sustainable Food Systems)," which aims to strengthen food systems through the private sector and contribute to increasing the incomes and agricultural productivity of small farmers and other vulnerable groups. In particular, the facility aims to strengthen the resilience of Africa's food and agriculture sector, against multiple threats, through collaboration with donors, private companies, and other partners, as outlined in the JICA Africa Food Security Initiative.

JICA, in collaboration with other development finance institutions and the private sector, will support private sector activities for food security in developing countries to achieve the agency's mission of human security and quality growth.