Message from the Chief Representative
I have started my assignment as the Chief Representative of JICA Madagascar Office from August 2021.
It is my first assignment abroad outside West Africa, where I had been working for many years. I was assigned previously in Côte d'Ivoire (1999-2001), in Burkina Faso (2008-2011), and most recently in Senegal (2014-2018). I have also been working in Africa Department at Headquarters, in charge of Planning and TICAD Process, between the assignments in Africa.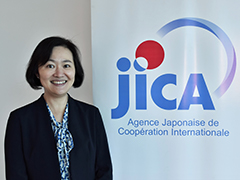 Madagascar has a big charm and great potential, with its rich nature resources, not only the mining or biodiversity but also the unique cultural and historical assets. I agree the saying "Madagascar is different from Africa and Asia. Madagascar is Madagascar". However, the persistent poverty is another reality of this country. The GDP per capita has not been increasing continuously after the independence in 1960 partly due to the repeated political crisis. The COVID-19 brought an additional socio-economic impact on this already vulnerable economy and society. Why does Madagascar's development stagnate? To tackle this enigma and to pursue the solution through our activities are my goals during my assignment.
Government of Japan has set a goal of bilateral cooperation as "Sustainable development through well balanced economic and social development". JICA is focusing on, in Madagascar, 1) Agriculture and Rural Development (rice value-chain development and market-oriented agricultural production, namely SHEP), 2) Economic Infrastructure Development (Antananarivo - Toamasina Axe Development, including the extension of Toamasina Port), and 3) Social Development (Quality education through school management committee named "FEFFI", Quality health services through 5S - KAIZEN approach, and Nutrition). In view of maximizing the impact of development by responding to immense needs quickly and effectively, our activities are open to any collaboration with other partners. We are willing to be a catalyst linking Japanese companies, universities, NGOs, and other relevant partners with Malagasy counterparts.
JICA, as an organization committed to human resources development as well, we will contribute to strengthening the human network between our countries through various modalities. For example, JICA is sending Japanese Overseas Cooperation Volunteers, or JOCV in Madagascar. In 2022, we will celebrate its 20th anniversary. These are Japanese volunteers serving mainly at community level. JICA also has a variety of scholarship programs for young Malagasy, including ABE Initiative launched since the TICAD V.
Our office is also in charge of Mauritius and Union of Comoros.
In Mauritius, in response to the Wakashio oil spill incident occurred in August 2020, we will start technical cooperation projects in Environmental monitoring, small-scale fisheries development, and oil-spill response. Being a high and middle-income country, Mauritius has an attractive business environment and can play a role as an entry point to African continent. JICA is also seeking to strengthen a partnership with Mauritius to jointly share our experience in the field of disaster management and climate change among the African countries in the region.
Union of Comoros is also an island country with a fragile governance. We will continue to work on developing small-scale fisheries and maternal and child health for the sake of vulnerable population, taking advantage of South-south or triangular cooperation.
In 2022, the 8th Tokyo International Conference for African Development, or TICAD 8 is scheduled. In this period of Post COVID-19, JICA is willing to discuss with partners and seek the better solutions for the pandemic crisis recovery. We are more than happy if our development cooperation will contribute to strengthen the trust between Madagascar, Mauritius, Union of Comoros and Japan.
JICA Madagascar Office
TANAKA Kaori