There are many different approaches to fighting climate change.These projects are aimed at controlling or preparing for climate change.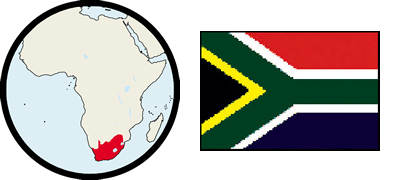 Using science to control the increased risk of infectious diseases due to climate change
Climate change is exacerbating the threat of infectious disease in developing countries. For example, extreme cases of El Niño and La Niña are accompanied by flooding. This accelerates the breeding rate of mosquitoes, which are a known carrier of pathogens, resulting in the spread of diseases such as malaria. The deterioration of the quality of water supply due to flooding also leads to the spread of cholera.
This relationship between climate and infectious disease epidemics was recognized by Japan and the Republic of South Africa, which have launched a joint research effort aimed at predicting potential epidemics and providing early warnings. Using artificial intelligence and other methods, the research team analyzes the weather forecast for Southern Africa acquired from one of the world's most advanced climate models, which was developed by Japan. This data is then combined with local environmental factors to predict infectious disease epidemics.
Speaking of the importance of this project, Noboru Minagawa, Project Leader for JICA and Professor at Nagasaki University, says, "If we can predict epidemics, we can prepare preventive measures, drugs, and diagnosis kits at an early stage. This will reduce the number of cases of infection."
It is expected that the results of this project can be further developed and applied in other parts of the world to control climate-related infectious disease.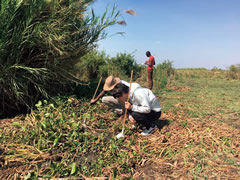 Team members collecting malaria-carrying mosquito larvae for use in clarifying the correlation between mosquitoes and climate as part of an ecological survey.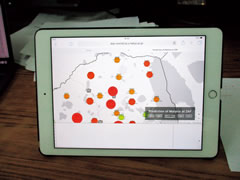 The predicted number of malaria cases shown on a tablet. Artificial Intelligence predicts potential epidemic areas using the data collected.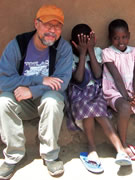 Noboru Minagawa
Professor, Institute of Tropical Medicine, Nagasaki University
For the first time in 20 years, we succeeded in predicting an outbreak of malaria in South Africa!