President Kitaoka's visit to Palau Reaffirms Strengthened Relations

JICA President Kitaoka Shinichi visited the Republic of Palau between 16th and 18th of October, becoming the first JICA president to do so. He commenced his visit by meeting with President Remengesau, and Dr. Kitaoka spoke of the immense importance of Palau, with vast exclusive economic zone, to the "Free and Open Indo-Pacific". President Remengesau expressed his appreciation for JICA's cooperation with development of Palau's basic infrastructure and the contributions made by JICA Overseas Cooperation Volunteers to Palau's development. Both parties confirmed their intent to further deepen cooperation between the two countries.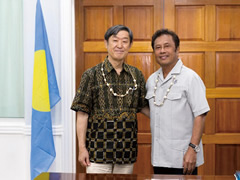 Meeting with President Remengesau.
Dr. Kitaoka visited the construction site of the "Project of Renovation, Expansion and Management of Palau International Airport", being built with JICA cooperation in the form of private sector investment financing. Then he visited the Palau International Coral Reef Center and a primary school on Peleliu Island. At the school he observed a first grade math class taught by a JICA volunteer. The children showed great zeal in working on math drills prepared by the volunteer. The visit confirmed awareness and appreciation by the local community for the on-site collaborative efforts of the JICA volunteers.
"Disaster Risk Reduction Management Platform (DRRMP)" Established for 7 Southeast African/Indian Ocean Countries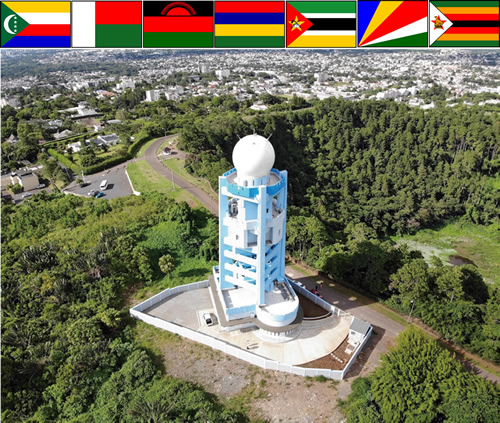 In April 2019, meteorological radar was completed in Mauritius with the support of JICA.
In the summer of 2019, three Southeast African countries and four Southwest Indian Ocean countries launched a platform that provides a means for sharing information and exchanging ideas on how to tackle issues related to disaster risk reduction. The idea for the project was formed after the intense tropical cyclone Idai hit Southeast Africa in March 2019, a disaster which greatly affected over 3 million people. Sharing the knowledge about disasters will contribute to mitigating the worst outcomes.
JICA has implemented the "Project of Landslide Management" including a radar construction project and other projects related to the climate change and environment in Mauritius over a number of years. In May 2019, "Project for Enhancing Meteorological Observation, Weather Forecasting and Warning Capabilities" launched in Mauritius, and a more accurate and immediate transmission system for weather information is being prepared. With the launch of the platform, this knowledge will also be widely used in neighboring countries. As representatives of disaster risk reduction organizations from these countries will be involved in the operation of the platform, in conjunction with various development organizations, it is expected to act as an unprecedented hub of the disaster risk reduction organizations of the countries of Southeast Africa and of the Southwest Indian Ocean.