The Ethiopia Industrial Promotion Project (Export Promotion) (Phase 2) aims to increase the export value of leather products, and one of its activities is to provide technical support to improve the quality of these products. In Phase 1, the project supported more than 10 Ethiopian partner companies, which are manufacturers of bags, shoes, and garments, for improving design and quality targeted to the European and US market. In order to continue the technical support in Phase 2, the project called for application through ELIA[1] for the partner company selection and received applications from 49 companies.
The selection of partner companies was based on the review of documents and product samples submitted by the applicant companies. The samples were transported from Ethiopia to Japan since Japanese experts have not been permitted to travel to Ethiopia due to the pandemic of COVID-19. At the selection meeting on May 14, samples of shoes, bags, jackets, and belts filled the venue.
As a result, six companies (one shoemaker and five bag makers) that exceeded the required level were selected as partner companies. The project will start online technical support to these six companies soon. It will be a big challenge as none of the experts have any experience in providing technical support over the PC screen before. The second round of selection will be conducted for the 12 companies that were slightly below the acceptance level in this round. The next time the Japanese experts travel to Ethiopia, they will inspect their factories and decide whether to select them as partner companies. The technical support to the partner companies will be introduced in future Project News.
Note
[1] ELIA: Ethiopia Leather Industries Association, one of the implementing organizations of the project.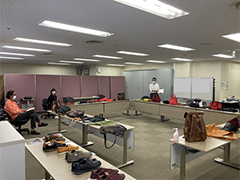 Product samples laid out in the venue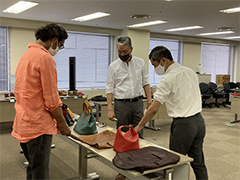 Selection process 1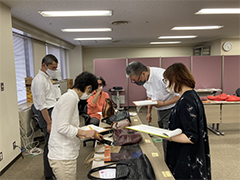 Selection process 2