Waste workers are usually the least addressed frontline workers during the COVID-19 pandemic. These workers are responsible for disposing used facemasks, gloves and paper napkins in addition to the everyday trash that people discard. They are at the frontlines of infectious waste and the majority of them do not have proper protective equipment to protect themselves from contamination.
That is why JICA has provided support close to three million birr to provide personal protective equipment (disposable facemasks, noncontact thermometers, sanitizers and hand soap) and training to the Addis Ababa Solid Waste Management Agency (AASWMA) and selected Addis Ababa sub-city offices.
JICA, through R&D Consulting, trained 400 AASWMA staff and 200 staff from sub-city offices on COVID-19 prevention methods as per the World Health Organization (WHO) guidelines. The weeklong training was designed to raise awareness on proper hygiene techniques (how to wash thoroughly, proper removal of masks, gloves and protective gear…etc) as well as to educate the staff on COVID-19 isolation protocols, treatments and safety in the workplace.
R&D Consulting facilitating a COVID-19 training session.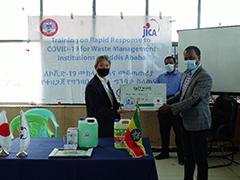 Donation of COVID-19 supplies from JICA to AAWSMA. Pictured are Dr. Shunji Oya, Project Formulation Advisor, JICA Ethiopia Office and Dr. Eshetu Lemma, General Manager, AAWSMA.