Mr. Kifle Balcha, a former Addis Ababa Education Bureau Curriculum Expert and former JICA counterpart in the education sector, was recently awarded the 2020 BIC Cristal Pen Award.
BIC, a leading worldwide stationary brand, launched the award to recognize and celebrate exceptional educators who are making an impact on their students and communities by inspiring them and preparing the next generation to thrive. In February 2021, BIC announced that Mr. Kifle was selected as one of ten winning educators from around the world.
Mr. Kifle has worked in the education sector for the past 33 years, and has been instrumental in promoting an activity-based approach to teaching and learning mathematics. He has contributed both through actual teaching in the classroom and as teacher trainer, through the implementation of in-service teacher training in Addis Ababa.
Mr. Kifle is a long-time collaborator with JICA education activities. Twelve years ago, he organized a seminar with JICA volunteers to introduce hands-on activities in mathematics to primary school teachers in Addis Ababa. "During the seminar, we discussed a lot and shared ideas about how to prepare lessons, improvise activities using local resources, and implement activities in the lesson to enhance student's understanding."
Mr. Kifle also worked as one of the main counterparts of a JICA technical cooperation project, Strengthening of Mathematics and Science Education in Ethiopia (SMASEE), aimed at mainstreaming in-service teacher training. At the award ceremony, he stated, "Project activities with Japanese experts, such as developing training content and establishing an in-service teacher training system, really opened my eyes".
"This award instils hope in my core belief that educators can play a pivotal role in shaping future leaders by helping them develop essential life skills," the award winner added. "I strongly expect JICA to continue to work in education development with us and to contribute to the capacity development of human resources in the education sector in Ethiopia."
Currently, Mr. Kifle is a freelance education consultant, working in Addis Ababa.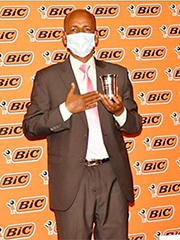 Mr. Kifle at the BIC Award Ceremony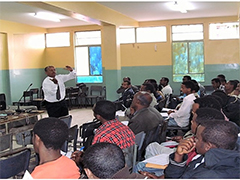 Mr. Kifle conducting a teachers in-service training session (before-COVID-19)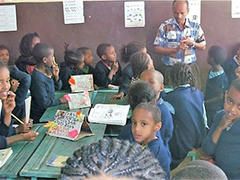 Mr. Kifle teaching mathematics at a primary school (before-COVID-19)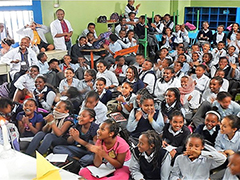 A mathematics seminar in Addis Ababa (before COVID-19)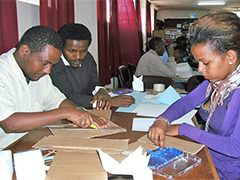 Teachers actively participating in an in-service training session (before COVID-19)