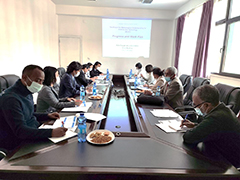 Dr. Theodoros, Director General of MoE and Dr. Morihara, JICA Chief Representative and the other participants gathered at the 3rd JCC.
The 3rd Joint Coordination Committee (JCC) of MUST[1] Project was held by both the Ministry of Education (MoE) and JICA on 29th March, 2022 at the ministry office in Addis Ababa. The JCC is the highest committee of the joint project consisting of the executing agency, Curriculum Development and Implementation Directorate (CDID) and JICA. During the 3rd JCC, the Director General and the Director CDID of MoE, Chief Representative and Representatives of JICA Ethiopia, JICA Experts for MoE, and MUST Expert Team participated in the discussions. Both sides discussed the MUST plan on: 1) technical assistance to improve Grade 9-12 Mathematics textbook drafts, and 2) monitoring activities of the revised textbook drafts in pilot schools.
Following the result of a workshop for textbook developers held last February, both sides agreed to organize six more face-to-face workshops to improve the textbook drafts further until March 2023.
In addition, MoE and the MUST Expert Team discussed how to conduct the monitoring activities. The revised textbook drafts will be printed and distributed to 98 pilot schools throughout Ethiopia starting from September 2022. Both sides agreed that the joint monitoring team would conduct classroom observation, unit-end tests, and achievement tests in selected schools mainly in Addis Ababa. Through these activities, the team will monitor how the revised textbooks contribute to improvement of the instructional process in classrooms. Based on the findings, the developers will revise and finalize the drafts for the full implementation of the new textbook from September 2023.
Note
[1] MUST: Mathematical Understanding for Science and Technology