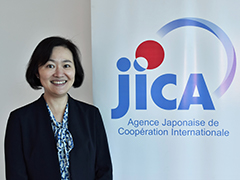 Madagascar is the fourth largest island nation in the world (1.6 times the size of Japan) floating in the Indian Ocean across the Strait of Mozambique in the southeastern part of the African continent . In Japan it is known as a treasure trove of global biodiversity such as rare animals such as Ai Ai and ring-tailed lemurs, and baobabs, and has abundant tourism resources. According to one theory, the origin of the ethnic group is people who came from Indonesia (Borneo) around the 3rd to 5th centuries BC, but there were also immigrants from the east coast of Africa. Those origins can be found in music, dance, traditional religions, residential styles, etc. Thus Madagascar is such an attractive country with a unique character that combines features of both Asia and Africa.
Japan's economic cooperation for Madagascar dates back in 1965 with technical cooperation. Ever since our cooperation through grant aid (1972 -) and yen loans (1973 -), have been contributing to develop the wide range of fields such infrastructure, agriculture, fisheries, education, health, water and sanitation. Dispatch of Japan Overseas Cooperation Volunteers started in FY2002, and as of the end of August 2019, a total of 200 people have been dispatched. The JICA opened its local office in Antananarivo in 2003..
December 2018 in presidential elections, Angie Rajoelina, Africa's youngest President was elected (44 years of age at the time). The President drafted "Madagascar Emerging Plan" based on the keywords such as "peace", "stability", and "sustainable development". He has been currently strengthening anti-corruption measures, accelerating development of infrastructure such as roads, power plants, and water supply. In addition, in the National Assembly election held in May 2019, the ruling party has won the majority of absolute stability, thereby strengthening the political stabilities ahead.
Under such circumstances, JICA's programs has also expanded relatively steady. At present, JICA has three main components of cooperation programs, namely social development sector such as education ( School for All project ) and health ( 5 S , maternal and child health ), agriculture and rural development sector such as rice culture (Rice productivity improvement and watershed management project (PAPRIZ ) , and economic and infrastructure development sector (Toamasina port expansion project, Urbain development planning of Antananarivo, Toamasina and National Highway No. 2). Besides, in our new program on nutrition, Food and Nutrition Improvement and Improvement Project (PASAN ) has started in 2019 with multi-sectorial approach. The Japan Overseas Cooperation Volunteers(JOCV) have been steadily expanding to as many as 40 volunteers today .
Madagascar is strategically located in the east of African continent facing the great powers of India and ASEAN beyond the Indian Ocean. Looking into the future of this country, we would like to help strengthen the relationship between Japan and Madagascar at all levels as much as possible.
The JICA Madagascar office is responsible for its operation in two more countries: the Comoros Union and Mauritius.
Comoros Union is a small island state, which consists of three islands in the northwest of Madagascar. Owing to the past political crisis caused by the separatist movement, the country remains one of the poorest. challenged by a number of development issues. JICA will focus on the improvement of maternal and child health services and nutrition, centering on "human security", while cherishing the assets of past fisheries cooperation ("National Fisheries School" (grant aid)). We would also like to mobilize our expertise from the third countries where applicable.
Similarly, for the Mauritius, which is a high and medium income country and the small island states, JICA has been engaged in the fields of environment, climate change and disaster prevention, namely, technical cooperation program for landslide counter-measures, construction of meteorological radar(grant aid) and development of sewage facilities (yen loan). Focusing on the potential of Mauritius as a development partner, JICA will start regional programs on disaster prevention measures in order to contribute to the "Free and Open Indo-Pacific Initiative" of our government.
Together with the serious and hard-working Madagascar staff, we are all committed to work hard enough to bring about the best results.
Come and visit Madagascar! Once you land on it, it will surely become your favorite country! !
UMEMOTO Shinji, JICA Madagascar Office Manager