New Project Director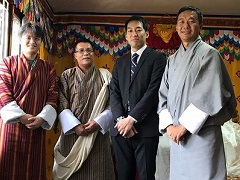 From left to right: the project coordinator Mr Ando, the project director Mr Karma, JICA Bhutan Office representative, Mr Wakabayashi and JICA Senior Programme Officer, Mr Krishna.
On 8 September, officials from JICA Bhutan office and the project coordinator celebrated the inauguration of the new director general of the Department of Disaster Management (DDM), who has been assigned as the new project director. In traditional Bhutanese manner, they offered a "Tashi Khadar" (a celebrational white scarf) to the project director, Mr Karma Tsering.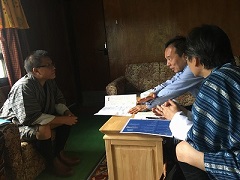 On 15 September, the chief advisor of the project, Prof. Takayoshi Aoki of Nagoya City University (NCU), and Mr Karma, the project director, exchanged the activity plans for the project. Because the DDM plays the role of dissemination in the project, Prof. Aoki introduced a prototype of a visual manual for constructing rammed earth buildings for use by craftsmen.
The Second Series of Pull-down Testing
On 20 September, the seismic technology team implemented the second series of pull-down testing to compare the rammed earth specimens with and without reinforcements. The team consists of members from the Department of Culture (DOC), NCU, Kagawa University, Tohoku University and Nihon University. The team measured the strength of the specimens against the out-of-plane forces made by a bulldozer. The DOC invited the Minister of Home and Cultural Affairs to attend and the outline of the testing was explained to him.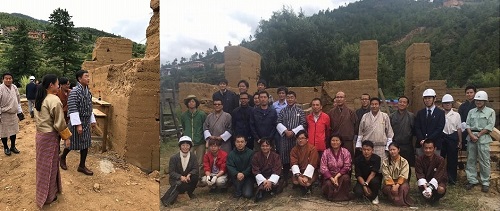 Bhutan Broadcasting Services (BBS) broadcast the testing nationally on TV and interviewed the project members. The news is on the BBS web site http://www.bbs.bt/news/?p=80818.