Knowledge Sharing with the Philippines and Bhutan
From 11 to 15 December, Mr Lasala, who is a Senior Science Research Specialist in the Philippine Institute of Volcanology and Seismology (PHIVOLCS), introduced the database programme on observed intensity, which is operated by PHIVOLCS in the Department of Geology and Mines (DGM). From 2010 till 2015, PHIVOLCS had been working on a JICA project with Japan's National Research Institute for Earth Science and Disaster Resilience (NIED) and enhanced the earthquake monitoring network in the Philippines. A common partner, NIED, has linked PHIVOLCS and the DGM to empower earthquake monitoring capacity in Asia.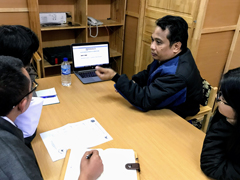 Mr Lasala demonstrating PHIVOLCS' database programme
Pull-down Test of Stone Masonry Specimens
From 20 to 21 December, the Department of Culture (DOC) and the Department of Engineering Services (DES) conducted a series of pull-down tests to test different reinforcements of stone masonry specimens. Four kinds of mortar-binding stones and reinforcements were evaluated using data such as the strength against load and the displacement extent. In consultation with Nagoya City University (NCU), Kagawa University (KGU), Tohoku University (TU) and Nihon University (NU). The DES is applying the data to develop a building regulation and guideline in Bhutan. The test was broadcasted by the Bhutan Broadcasting Services (BBS) on their official website (external link).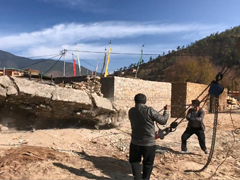 Pulling down a stone specimen bonded with cement mortar without reinforcement
Material Test
On 23 December, a team from the DOC, NU and NCU implemented a material test to improve the strength of the material used for rammed earth buildings. To gather the data on the loading capacity of rammed earth material, cylinder samples cored from rammed earth specimens were measured using a compression testing machine.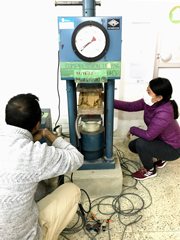 Compression testing of rammed earth material
Ground-breaking Ceremony
On 26 December, in readiness for the construction of the examination facility, a ground-breaking ceremony, known as Salang Tendrel in Bhutanese, was held at the DOC. Surrounded by full-scale composite masonry buildings, the facility will enable static testing on gradual loads against a building by using a jack system to understand the resistance or breaking patterns, as well as allowing dynamic testing using a shaking table to simulate earthquakes. Her Majesty the Gyalyum Tshering Yangdon Wangchuck graced the Salhang Tendrel ceremony. After the ceremony, Her Majesty informally talked to young Bhutanese project members, saying "don't waste your time and learn from the project".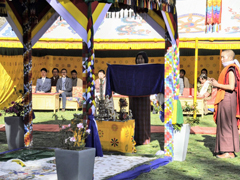 The DOC Project Manager praying for safety
A local newspaper article on the ceremony by Kuensel (external link)