Project Management Unit (PMU)
On 2 February, project managers from each department held the first Project Management Unit (PMU) meeting at the project office in the Department of Culture (DOC). The PMU discussed a tentative agenda for the Joint Coordinating Committee (JCC) to be held in March. In particular, they exchanged ideas about the purpose of the project, such as developing a strategy to strengthen the capacity of Bhutanese project members and a structure to accelerate capacity development.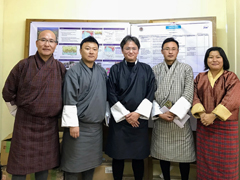 PMU and the project coordinator
A New Publication
On 13 February, the International Journal of Architectural Heritage published an online article written by project members. The article reviews a series of pull-down tests on rammed earth construction, implemented in Bhutan. The first author, who studies abroad from the DOC, is a doctoral student at Nagoya City University (NCU), and the co-authors are from NCU and Kagawa University.
Title: Assessment of out-of-plane behavior of rammed earth walls by pull-down tests
Authors: Phuntsho Wangmo (a), Kshitij C. Shrestha (b), Mitsuhiro Miyamoto (c), and Takayoshi Aoki (b). Author Affiliation:
a Department of Culture, Ministry of Home and Cultural Affairs, Thimphu, Bhutan;
b Graduate School of Design and Architecture, Nagoya City University, Nagoya, Japan;
c Department of Safety Systems Construction Engineering, Kagawa University, Takamatsu, Japan.
DOI: 10.1080/15583058.2018.1433903 (external link)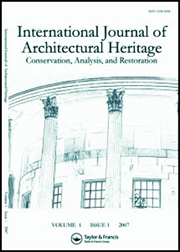 Training in Japan
On 22 February, two members of the Department of Geology and Mines (DGM) were sent to Japan for one week. They took part in an intensive training course for earthquake risk evaluation that included planning meetings with Japanese experts and hands-on training with microtremor measurements. The National Research Institute for Earth Science and Disaster Resilience (NIED), Kyoto University, and the Building Research Institute organized the course, held in JICA, Tsukuba.

An expert from the Building Research Institute instructing DGM members on microtremor measurements