The First Joint Coordinating Committee (JCC)
On 8 March, the first Joint Coordinating Committee (JCC) of the project was held in Thimphu. The JCC, which is a committee consisting of Japanese and Bhutanese project-related members, is a very important annual meeting that is used to discuss the progress of activities, issues and solutions. In total, 27 participants attended from organizations in Japan, such as the JICA Bhutan Office, universities or other institutions, and from departments in Bhutan. During the JCC, the Project Chief Advisor of Nagoya City University (NCU) first summarized the activities that took place in 2017 and then announced an outline plan for 2018. The Bhutanese departments then reported their achievements and plans in detail. The Department of Geology and Mines (DGM) reported progress in the earthquake monitoring network. The Department of Culture (DOC) and the Department of Engineering Services (DES) gave technical presentations on all tests designed to develop seismic technologies for traditional houses. The Department of Disaster Management (DDM) introduced some trial dissemination tools, such as the Virtual Reality Material for earthquakes. Finally, in a discussion session, the Project Management Unit (PMU) raised issues related to capacity development for the Bhutanese and proposed establishing a task force on human resource development to resolve the issues.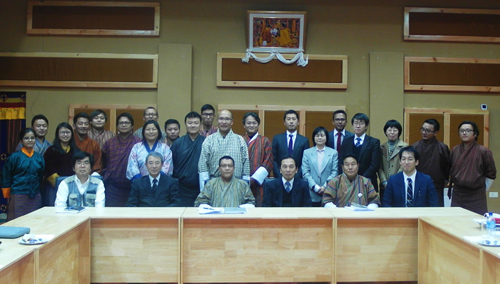 Group photo taken after the JCC meeting
Active Fault Seminar
On 9 March, the DGM hosted a seminar on "Active Fault and Earthquake Disaster Mitigation in Bhutan", inviting 20 people who engage in disaster management. Emeritus Professor Nakata Takashi from Hiroshima University gave a lecture that covered basic knowledge on active faults and cases of real active faults and he provided participants with an exercise designed to identify likely active faults from satellite images. In 2018, the DGM and the Japanese earthquake team will produce active fault maps and hazard maps for Bhutan by collecting existing digital maps and interpreting aerial photos.

Prof. Nakata's lecture (left); looking for active faults using a red-blue eyeglass (right)
High Sensitivity Seismometer Setup Mission Completed
On 24 March, a team from the DGM, Kyoto University and the National Research Institute for Earth Science and Disaster Resilience (NIED) completed a mission to install a high-sensitivity seismometer on Thanza. The installation site is at an altitude of 4,216 m and is located along part of the northern border of the Himalayan mountain range. The seismometer, which is the same as one installed on Jagothang in October 2017, enables the recording of every weak motion of the Himalayan mountain range, which is said to be one of most active places for earthquakes. To avoid altitude sickness in the mountains, the mission team travelled by helicopter and asked local residents, who were already adapted to high altitude, to help the work.

The team landed on Thanza by helicopter (left); people in Thanza helping with the work (right)