Bhutan at a Glance: Population
The National Statistics Bureau of Bhutan (NSB) carried out a population and housing census in 2017. According to the census, as of 30 May 2017, Bhutan's total population was 735,553 inclusive of Bhutanese and non-Bhutanese (NSB, 2018), which is greater than Tokyo's special ward of Nerima (721,722) and slightly less than that of Kumamoto City (740,822) (Statistics Bureau of Japan, 2015). The population density of Bhutan is about 19 people/km2, which is similar to the situation for Kumamoto citizens living on Kyushu Island. Thimphu Dzongkha, which covers a land area of 2,067 km2, includes the capital city and is home to 19% of the total population (138,736 people). The population density of Thimphu Dzongkha is 67.1 people/km2, which is almost the same as for Hokkaido (68.6 people/km2). The area of Thimphu City, however, is a small community covered an area of 26 km2. Indeed, when you walk with Bhutanese in the city, they often encounter their relatives or school mates and shake hands with each other.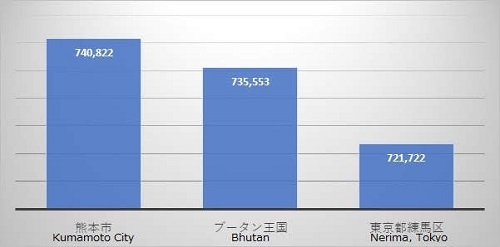 Comparison of the populations of Kumamoto, Bhutan and Nerima
References:
2017 Population and Housing Census of Bhutan, National Statistics Bureau of Bhutan (NSB), 2018 (PDF/5.62MB)
2015 Census Report (external link), Statistics Bureau of Japan, 2015
Installing the Anchor Frame of a Shaking Table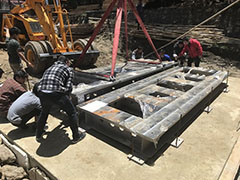 NCU and DOC employees setting up the anchor frame of a shaking table
On 8 May, experts from Nagoya City University (NCU) and engineers from the Department of Culture (DOC) installed the anchor frame of a shaking table at the examination facility on DOC premises. The anchor frame had to be buried horizontally in the ground so that the shaking table could accurately perform earthquake simulations. The level of the anchor frame had to be carefully adjusted while it was being fixed to the ground.
Drone Seminar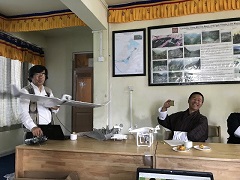 Demonstrating a drone
On 7 May, the National Research Institute for Earth Science and Disaster Resilience (NIED) and the Department of Geology and Mines (DGM) held a seminar entitled "Drones for Disaster Management" in the DGM conference hall. In total 32 participants attended the seminar, comprising project members from the Department of Disaster Management (DDM), engineers from Fablab Bhutan (an innovative grassroots workshop) and civil engineers from among the JICA volunteers. An NIED expert gave a presentation, which included an introduction to drones and cases involving their use after the Gorkha earthquake in Nepal and for surveying the Mayon Volcano in the Philippines, together with a sample DIY drone. The project director, who is also the director general of DDM, attended the seminar and was clearly interested in drones for quick disaster monitoring, such as during forest fires, which frequently occur in Bhutan. In response to the project director's request to deliver hands-on drone training, the project has started designing local programmes for people engaged in disaster management in Bhutan.
Maintenance of Seismometers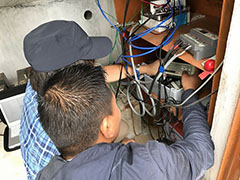 Demonstrating fault recovery steps
Since 13 May, a team pf Kyoto University (KU) and the Department of Geology and Mines (DGM) has been travelling via Central Bhutan (Bumthang Dzongkha) towards the east of the kingdom (Trashigang Dzongkha) to maintain operating seismometers. A new technician with the DGM has learned how to identify a fault in a seismometer system and what recovery steps to take. While looking at real seismometers and taking account of what was described on a drawing, he used his hands to carry out a practice recovery.