Bhutan at a Glance: Dress
Almost all Bhutanese wear national dress in daily life. All government workers are required to wear it at work: the gho for men and the kira for women. Without wearing the gho or the kira, Bhutanese are not allowed to enter public facilities, such as ministries. According to the dress code for official events with VIPs, men wear a scarf called kabney as a part of the gho and women wear a rachu with the kira.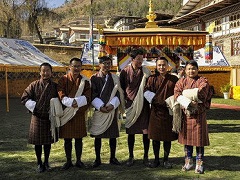 Men's official dress code: the gho with a kabney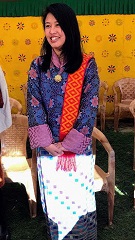 Women's dress code: the kira with a rachu
JICA Knowledge Co-creation Programme
On 22 June, Mr Yeshi Samdrup, a senior architect with the Department of Culture (DOC), received a briefing from the JICA Bhutan Office about participation on the "Disaster Risk Reduction of Buildings" JICA Knowledge Co-creation Programme. The goal of the training programme is to mitigate disasters and damage to buildings by consolidating the building codes and regulatory systems as well as supporting capacity development in the construction sector. After the briefing, he met with the chief representative of the JICA Bhutan Office and made a resolution to share his action plan after the programme with as many colleagues as possible. He will locate himself at the JICA Tokyo Centre for one month and study disaster risk reduction with participants from other countries.
Mr Yeshi (left) being briefed by a staff member from the JICA Bhutan Office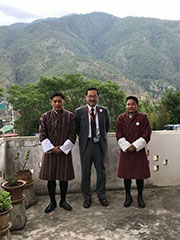 Departing photo with the chief representative of the JICA Bhutan Office