Bhutan at a Glance: Land of the Thunder Dragon
The national flag of Bhutan features a Dragon called Druk in the Bhutanese, or Dzongkha, language. In Dzongkha, Bhutan is called Druk yul, literally, Land of the Thunder Dragon. People of the Druk yul are Druk pa and the King of Bhutan is called Druk Gyalpo. The fifth Druk Gyalpo, His Majesty King Jigme Khesar Namgyel Wangchuck, visited Japan in November 2011 after the Great East Japan Earthquake, to express his condolences for the victims in the disaster areas. At an elementary school in Fukushima prefecture, His Majesty told the children a story about Druk. He said: "Dragons feed on experiences. A dragon lives in the heart of each one of us. I shared the story with all the young people in Bhutan and told them to feed their own dragon. Because it becomes bigger and stronger over the years. You always must be in control of that dragon." So it seems that His Majesty encouraged them to be strong in difficult situations. Drawing an analogy with the dragon story, the SATREPS project in Bhutan has been developing experiences in collaboration with Druk pa to make Druk yul resilient to earthquake disasters.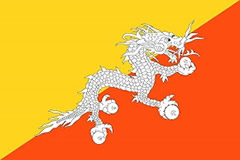 Debriefing Session on Action Plan
In July 2018, Mr Yeshi Samdrup, a senior architect with the Department of Culture (DOC), had completed a training course in Japan, the JICA Knowledge Co-Creation Program on "Disaster Risk Reduction of Buildings". The programme included topics such as how Japan has developed building regulations by learning from past earthquakes, seismic technology used in real buildings, cases of building damage by earthquakes in other countries, and so on. As soon as he returned to Bhutan, he summarized what he had learnt and made his action plan to improve building regulation or disaster countermeasures for Bhutan. In the debriefing session with 18 people present, he reported the action plan to his colleagues as well as officials from other departments engaged in disaster management. Drawing a timeline up to 2023 after the end of the SATREPS project, his action plan emphasized on disseminating the project's achievements to village people in the country.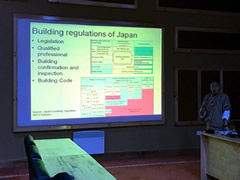 Yeshi Samdrup reporting on building regulation in Japan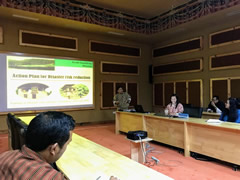 Presenting the action plan