Bhutan at a Glance: Food
A red chilli pepper is the most famous ingredient in Bhutan, and is called ema. Milk products are also popular, among them cheeses are called datshi. The most famous dish in Bhutan is ema datshi, which is made from chili peppers and cheeses, literally ema and datshi. A recommended way to eat Bhutanese dishes is to put ezay, a pasty sauce mixing ema with fermenting soybeans, on rice with a steamed dumpling or momo.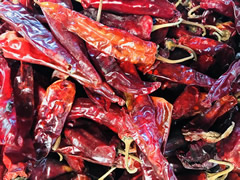 Ema sold in a market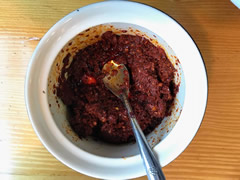 Ezay
PMU and HRD Meetings
On 8 August 2018, the Department of Disaster Management (DDM) held the Project Management Unit (PMU) meeting attended by the project members. The Chief Adviser to the project, Prof Takayoshi Aoki from Nagoya City University, and other experts from Japanese institutions attended the PMU meeting to reach agreement on a long-term plan for building experiments, equipment setting-up schedule, timing of budget requests by Bhutanese departments, and so on. On the same day, the project's Human Resource Development (HRD) task force, which is to pursue the project's aim of developing the capacity of Bhutanese departments, held a meeting to compare the training needs of each department and to agree on the allocation of resources for coming training programmes. To make an official allocation for the programmes, the HRD task force sent an official letter to the Royal Civil Service Commission of Bhutan, which is in charge of capacity development for Bhutanese civil servants.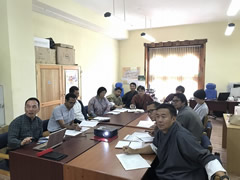 Presentation by Prof Aoki at the PMU meeting