VR - Virtual Reality
One of the project's teams has been developing educational materials to raise people awareness to mitigate earthquake disaster. One example is a virtual reality (VR) material developed by the Art and Media Experience Lab of Dr Ryu Nakagawa from Nagoya City University (NCU). VR technology can show a computer-generated experience on a head-mounted display. On 3 October 2018, the Department of Disaster Management (DDM), which is his collaborator, held a workshop on trial VR material that enabled DDM staff to experience an earthquake happening in a Bhutanese traditional house. Attendees used the VR material like a game to see what will happen when an earthquake attacks your home, how to escape after the earthquake, and so on. Their feedback on the VR material has been gathered by Dr Nakagawa to improve and make it appropriate for the Bhutanese context.
A VR demonstration by Dr Nakagawa (left) and a DDM staff member
The 2nd Joint Coordinating Committee
On 3 October 2018, the 2nd Joint Coordinating Committee (JCC) of the project was held at the Department of Culture (DOC); 24 members from Bhutan and Japan attended. At the opening session of the JCC, the project's Chief Adviser, Prof Takayoshi Aoki of NCU, gave a summary of progress and planning. Then each representative from the Bhutanese departments delivered detailed presentations on their activities. During the JCC week, a mission team from JICA headquarters had been in Bhutan to monitor progress, to clarify how the scientific achievements would benefit Bhutanese society, and to make an agreement on these things with the Director General of the DOC.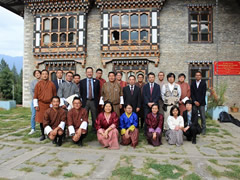 Group photo after the JCC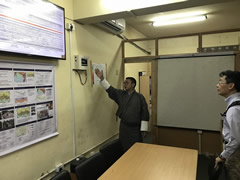 The monitoring team visited the Department of Geology and Mines' intensity monitoring network
Pull-down Test and Wrap up Seminar
To develop earthquake-resilient technology for traditional houses, a team drawn from the Department of Culture (DOC), the Department of Engineering Services (DES) and Nagoya City University (NCU) implemented a series of pull-down tests on the small mock-structures made of earth and stones with different degrees of reinforcement. After the test, a structural engineer, Dr Shrestha of NCU, held a wrap up seminar for young engineers on a numerical model for analysing the results. The seminar included calculation formulas requiring applied mathematical theory at a master's degree level, though the engineers tried to keep up with it, making full use of their brains and hands.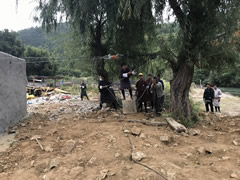 Pulling down a stone wall with a reinforcement, slowly and by human muscle power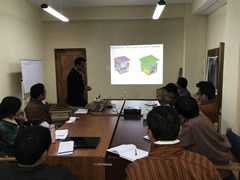 Lecture by Dr Shrestha on numerical models