Microtremor Survey
From 26 November 2018, a five-day hands-on training course in microtremor surveys was held by the project's Earthquake Evaluation Team, drawn from the Department of Geology and Mines (DGM), Building Research Institute (BRI), and Kyoto University. A microtremor survey estimates the risk of earthquakes from the vibrating properties of the ground. Arranging microtremor instruments on the ground in different ways, the team measured ambient vibrations generated from traffic or footsteps. From the speed of the vibrations, the thickness, softness or hardness of the ground can be estimated, and it can be anticipated how far the ground will be shaken or the risk amplified by future earthquakes. For some DGM members, the training was an opportunity to review what they had already learned in Japan from Dr Takumi Hayashida, a seismologist at the BRI. Gathering the data from the microtremor survey, the DGM is to evaluate earthquake hazard risk in Bhutan and develop a shaking hazard map showing the capability of the ground to amplify earthquake.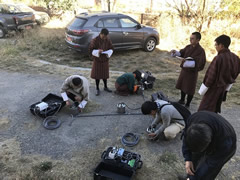 Microtremor survey on the premises of the DGM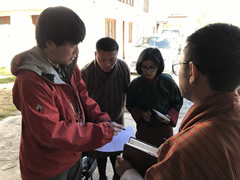 Dr Hayashida showing a checklist before the survey
Business Trip to Japan
From 4 November 2018, three Bhutanese from the Department of Disaster Management (DDM), the Department of Culture (DOC) and the Department of Engineering Services (DES) visited Japan for a week. They delivered their presentations at Nagoya City University (NCU), observed earthquake awareness activities in Japan, and learned about seismic technologies to mitigate building damage from earthquakes. Notably, at Nagoya Municipal Minato Disaster Prevention Center, they experienced a pseudo intensity 7 class earthquake while sitting at a shaking table. Then they moved to Tokyo, visiting Prof Noboru Yuasa at the Building Material Laboratory in Nihon University, where they learned strength testing methods for materials such as rammed earth made of different composites.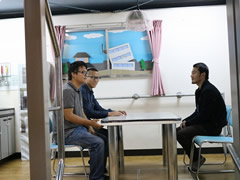 At a shaking table, the Bhutanese experienced an earthquake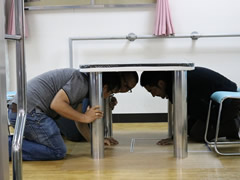 At a shaking table, the Bhutanese experienced an earthquake